The strength of Drupal is our community. As an open source platform, we rely on community contributions to deliver continuous value to everyone who uses Drupal. Once a year, we all come together at the world's largest annual Drupal event: DrupalCon North America. During this week, Drupal Developers, designers, content editors, strategists, and marketers get together to learn from each other.
DrupalCon 2017 took place April 24-28 in Baltimore, Maryland. Our team had a blast learning from the community and seeing what's next for Drupal. After a long week of immersive learning, we compiled these 10 leading insights and best practices from DrupalCon 2017. Some of the topics include:
Industry Case Studies
Web Performance Optimization
Diversity in Drupal
Design Systems & Design Thinking
Much, much more!
If you're a Drupal user but couldn't attend the conference, we've linked out to some of the key talks in each subject area. The DrupalCon team did an amazing job of recording and posting each talk — be sure to check them out via the links in our post!
Drupal 8 is (Basically) Ready
If there's one thing that every Drupal user should take away from DrupalCon, it's this: Drupal 8 is (basically) ready. Most major modules now have a clear upgrade path from Drupal 7 (D7) to Drupal 8 (D8) — and other modules are well on their way.


Drupal 8 Development Sprints (Photo by Michael Cannon) 
So, what does this mean for a Drupal site owner?
If you're starting a new Drupal site build, you have three options:
Start the site in D8
If you need modules that aren't available in D8, wait to build the site until they are
If you can't wait, go ahead and build that D7 site, but set aside a budget to upgrade to D8 within 3 years
If you have a Drupal 7 site, you don't need to upgrade yet. There's no official announcement for D7 end of life, but we heard murmurings of Drupal 7 end of life within 2-3 years. Our recommendation for Drupal site owners: start saving resources for an upgrade to D8 in 2019.
DrupalCon 2017 Sessions: Drupal 8
Drupal & AI
Each year, Drupal founder Dries Buytaert delivers the DrupalCon Keynote (aka The "Driesnote"). This year, Dries focused on how Drupal will interface with emerging technologies. 
Artificial Intelligence (AI) and machine learning are hot trends in tech. While "AI" might be far off, early iterations of machine learning are here today. Machine learning involves software that changes when exposed to new data. Right now, chatbots provide an exciting application of machine learning.
At the 2017 Driesnote, we saw an experimental use case: connecting a chatbot with Drupal.
In the example, Dries & team set up a chatbot that queries information from a Drupal database. The end user can interact with the chatbot using a messenger app like iMessage or WhatsApp. 
Then they took this one step further. The team connected the chatbot to an Amazon Echo — a conversational interface. So we saw Dries speaking and texting with a chatbot, which drew it's answers from a Drupal site.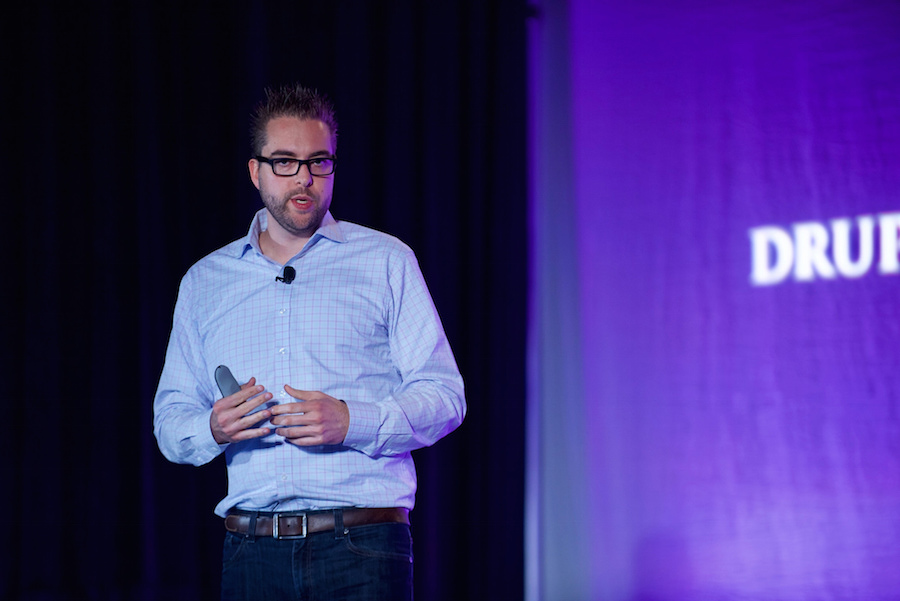 Dries Buytaert talks AI & more at the DrupalCon Keynote (Photo by Jeff Geerling)
Sci-fi dreams aside, here's what's really interesting about these experiments: they emphasize using Drupal as a content database, separate from the front end of a website. In these examples, the Drupal database is a content management & distribution service that powers other interfaces. This is "decoupled Drupal," and it could be the future for businesses who need a central content repository. 
DrupalCon 2017 Sessions: Drupal & AI
Decoupled Drupal
Content management is a core strength of Drupal. What if you could take Drupal's content management system and use it to power other interfaces? Well, you can. And that's the idea behind "decoupled Drupal" — also called "headless Drupal." 
Decoupled Drupal has been around for a while. But adoption is increasing as more enterprise customers select Drupal as their CMS of choice. Large organizations often have a diverse, fragmented digital ecosystem. The goal of enterprise content management is to streamline content within this system.
Let's say your marketing team loves Drupal for content management and usability, but your larger organization isn't ready to go "all Drupal." Now you don't have to. You can start with a Drupal site and serve content to any system from your Drupal database.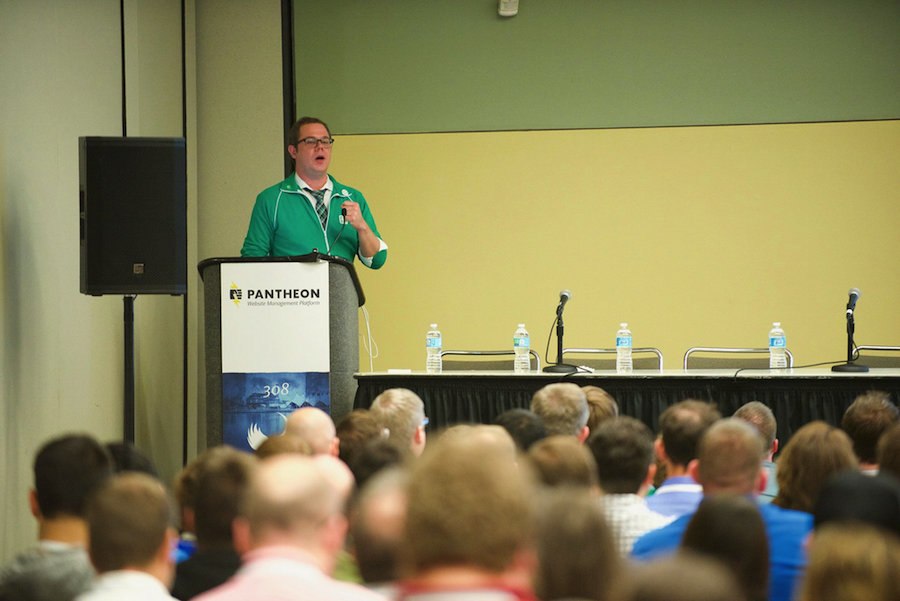 Todd Nienkirk presents Future of the CMS (Photo by Jeff Geerling)
Another benefit to decoupled Drupal: it separates the front end experience from the content structure. Well-structured, relevant content can last a long time. In contrast, front end design trends move quickly. With decoupled Drupal, you're free to iterate on front end design while keeping a consistent content framework.
DrupalCon 2017 Sessions: Decoupled Drupal
Industry Focus: Higher Ed & Government
It's great to see Drupal expanding their focus to include specific industries and markets. At DrupalCon 2017, two industries stood out: higher education and government.
Drupal and Higher Education
Most colleges and universities face a similar technology problem: within their university, digital properties are managed by many different departments, without a coherent structure for digital governance. In a perfect world, you could solve this problem with a comprehensive digital governance plan across all university digital properties. But most universities have a siloed, department-specific management structure. So a large-scale digital transformation seems daunting.
That's where Drupal comes in. Since Drupal is flexible and scalable, universities can adopt Drupal from the outside in. Here's what that plan might look like:
Start with a Drupal rebuild for your main .edu property 
Create a Drupal distribution (base template site) as a starting point for all university sites
Guide individual departments through the transition to Drupal, based on their individual resources and timetables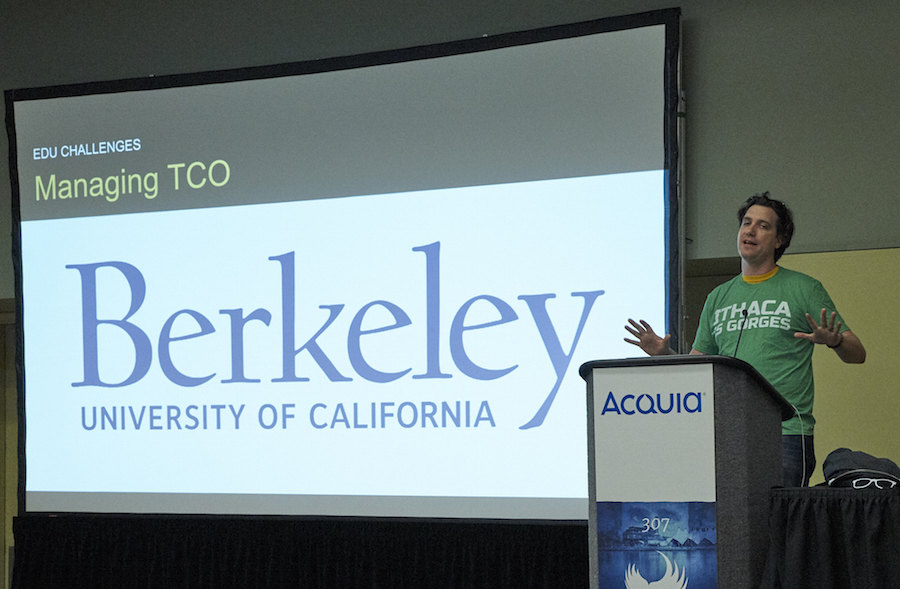 Josh Koenig talks about total cost of ownership for .edu Sites (Photo by Michael Cannon)
Drupal and Government
For government organizations, the big question has been, "Is Drupal secure (enough) for government websites?"
At this point, we hope, technology decision-makers have accepted that Drupal is secure. Drupal must be maintained and protected through routine security updates and offsite backups. With a proper security process, Drupal is secure. That's why Drupal is the CMS of choice for many government organizations, including the Whitehouse, mass.gov, the Government of Bermuda, The Islands of The Bahamas, and more.
This year at DrupalCon we saw the .gov conversation expand beyond security. Government organizations using Drupal want to make their sites more constituent centric. They're focused on providing value to their end users, their constituents. This is synonymous with concepts like customer journey and user experience. 
DrupalCon 2017 Sessions: Industry Focus
Diversity in Drupal
We need more diverse voices in tech, and the Drupal community reflects this broader social need. It's not enough to just include people of different gender and races. We need to highlight their voices — we need to hear broader perspectives from within the community. 
This year we saw meaningful progress for diversity in Drupal. Part of this progress comes from the ongoing efforts of the Drupal Diversity & Inclusion Working Group. The purpose of the group is to:
Provide a safe space to discuss issues of diversity and inclusion within the Drupal community.
Provide support for people who are marginalized in technology
Provide strategies for increasing d&i of communities and organizations
Share resources/education about social justice issues in our technological communities - d&i, equality, inclusion, accessibility, etc.
The Drupal Diversity group provides a useful list of ways to get involved, including a weekly meetup in the #diversity-inclusion slack channel. Get more details on how to get involved here.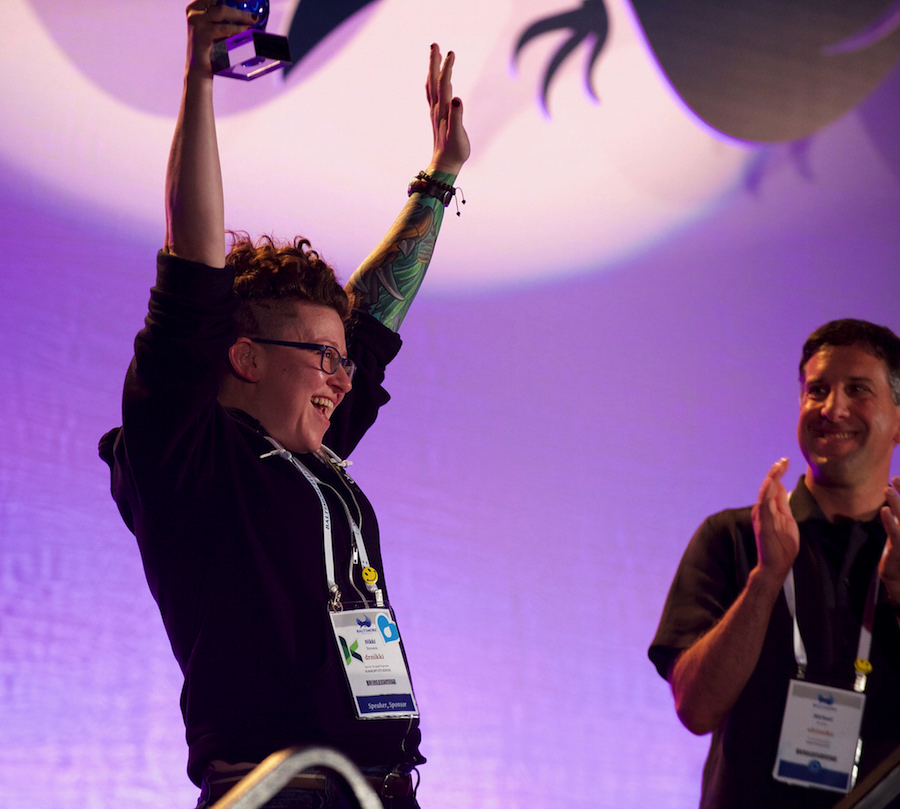 Nikki Stevens, founder of the Drupal Diversity Working Group, wins the Aaron Winborn Award (Photo by Jeff Geerling)
Speaking of direct action, this year we saw another exciting step forward for diversity in Drupal. One of the challenges of diversity is bringing underrepresented people into the community — especially those who might not even know about Drupal or tech because they've never been exposed to it. 
Digital Bridge Solutions and Palantir partnered to attack this problem. Together, they sponsored underrepresented youth to attend DrupalCon 2017.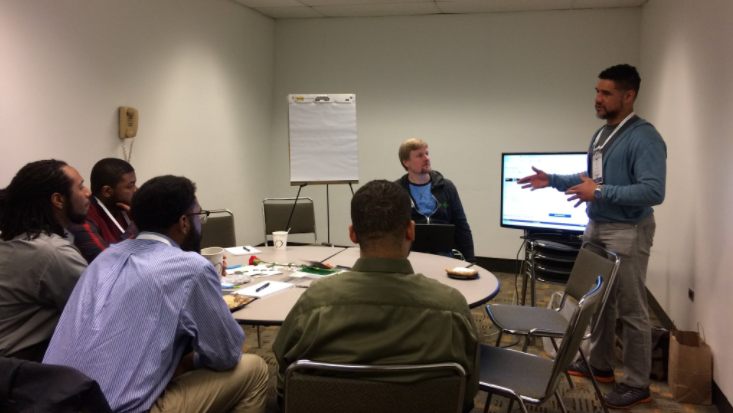 Chris Rooney, founder of Digital Bridge Solutions, mentors underrepresented youth at DrupalCon
DrupalCon 2017 Sessions: Diversity in Drupal
Drupal for Marketers
If there's one area where DrupalCon can improve, it's this: more sessions focused on marketers who use Drupal every day.
Of course, marketers care about things like performance budgets, agile development, content management, and design systems — and if they don't, we want to help them see the value in these concepts.
But what they really care about — as in, what their job depends on — is marketing. This means:
Increasing visibility with their target users
Creating and distributing relevant content
Improving on-site engagement through user experience improvements
Converting new leads
Improving website ROI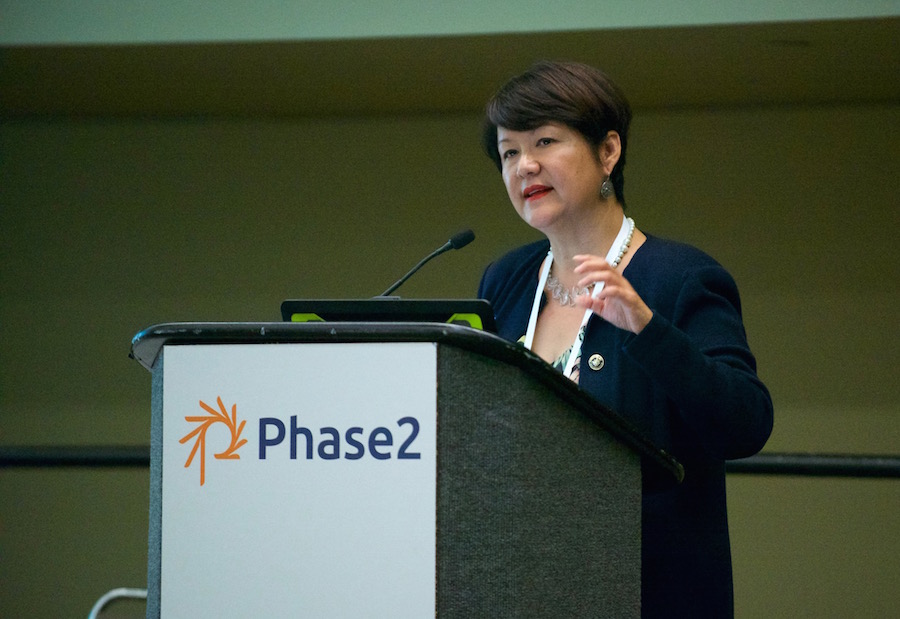 Susan Rust presents Who Cares about Lead Capture Anyway? (Photo by Jeff Geerling)
This year, we saw more talks about lead generation and SEO than last year. We learned tactics for technical SEO in Drupal 7 and Drupal 8. We saw models for calculating website ROI and presenting it to stakeholders. Despite these useful talks, it felt like marketers were in the background DrupalCon. And that's a shame, because Drupal is a powerful tool for content marketing. Marketers matter! Along with content editors and authors, they're the ones who use their Drupal site every day.
Here are some marketing topics we'd love to see at next year's DrupalCon:
The value of centralized content publishing in Drupal
How keyword research informs SEO
Using Google Analytics to Improve User Experience
Tactics for creating & distributing content
Tactics & case studies for conversion optimization
How Drupal integrates with the marketing stack
DrupalCon 2017 Sessions: Drupal for Marketers
Drupal Design Systems
What's next for front end design in Drupal? This year, the overarching theme was design systems. A design system is a visual language used to deliver consistent, meaningful user experiences. 
In this respect, the Drupal community reflects a larger trend in user experience design: creating design systems to drive consistency across all digital experiences.
We saw a number of talks on Pattern Lab, a tool for building a pattern-driven user interface. Pattern Lab is a web design system that's code-driven and mobile responsive. It eliminates the need to translate style from a static Photoshop model — the style guide is already in code.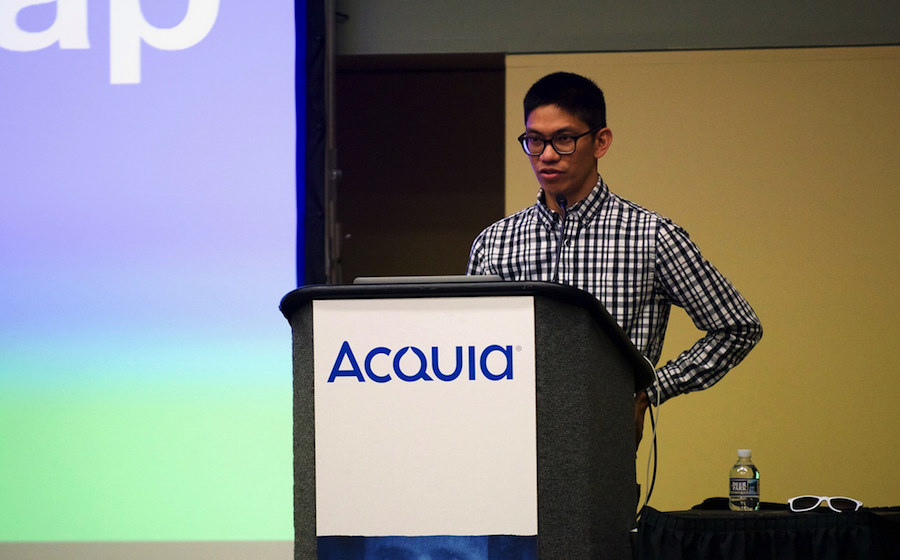 Mark Llobrera presents Pattern Language: Pattern Libraries in the Wild (Photo by Jeff Geerling)
Design systems are especially interesting for Drupalists because they impact our workflow. Here's a typical design workflow today:
Establish brand standards
Create a style guide in Photoshop
Create wireframes
Build Drupal architecture
Enter content
Apply Photoshop style guide to your Drupal build — known as theming
The main issue with this process is that theming happens after you've finished the content, layouts, and architecture. By that time, elements have changed significantly from your initial Photoshop style guide.
Enter design systems thinking — and tools like Pattern Lab. In this model, you design workflow looks more like this:
Establish brand standards
Code basic web elements in Pattern Lab
Create wireframes to show how elements fit together in full pages
Setup Drupal theme based on Pattern Lab
Build Drupal architecture
Enter content 
Tweak and refine
The big difference here is how we handle theming. Using a design system like Pattern Lab, you no longer have to save your theming until the end. Coding your theme becomes integral to the entire design process.
DrupalCon 2017 Sessions: Drupal Design Systems
Content Layouts & Paragraphs
Content layout was another key user experience theme at DrupalCon 2017. Most of the discussion was focused on Paragraphs — a module that's changing how we do layouts in Drupal.
Here's the basics. Content authors want flexibility in creating new pages on the fly. But unless they're experienced with Drupal site building, it's tough for content authors to create new layouts in Drupal. Their alternative has been to learn basic HTML/CSS and try to create layout elements in the WYSIWYG editor. But that's not a great solution. WYSIWYG editors can be temperamental, and this approach often leads to inconsistent design.
What's a content author to do?
Use Paragraphs, that's what!
With Paragraphs, you can create pre-defined content blocks for your content authors. Paragraphs have different types, and each type has a defined set of fields. Using Paragraphs, content managers can determine layouts, such as "two text columns," "text with side image," "image slideshow," and so on. Then, content managers can re-order individual Paragraphs within a page.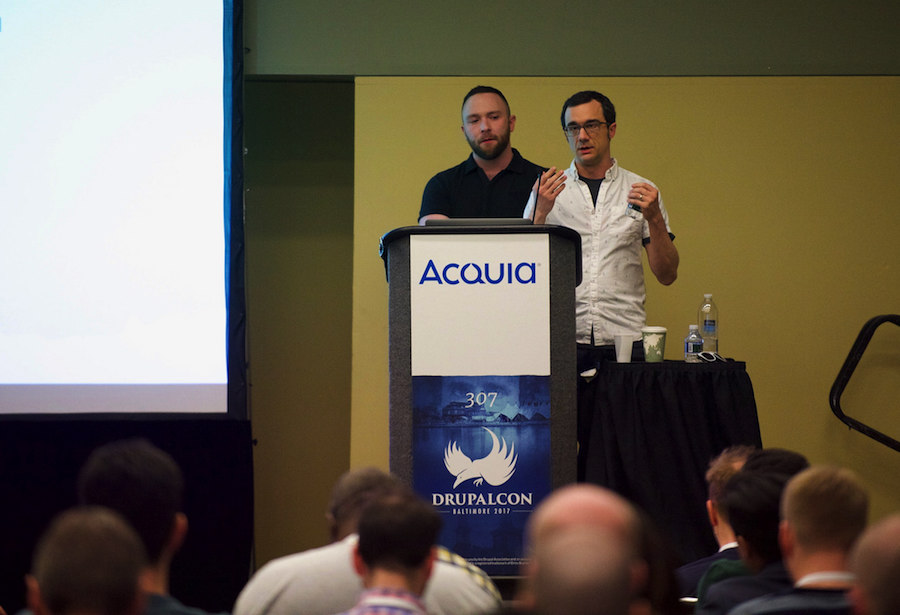 J. Hogue and John Eckroth present BCBS.com: Pushing the Design Limits with Paragraphs (Photo by Jeff Geerling)
Paragraphs is not the first module to do this. We've tried similar applications with modules like Field Collections and Beans. But Paragraphs takes it to another level of consistency. Paragraphs is easy to configure and even easier for content authors to use — which means it's likely here to stay.
DrupalCon 2017 Sessions: Content Layouts & Paragraphs
Web Performance Optimization
Site speed, server response time, .gzip compression, caching... how do we talk about web performance with our clients?
Performance matters, and it's not just for the development team. Performance is critical to user experience. We need to be thinking about things like:
Is slow page load time hurting on-site engagement and conversion?
Are we making the most of caching opportunities?
What's our Google PageSpeed Insights score?
How are users with low bandwidth connections experiencing the site?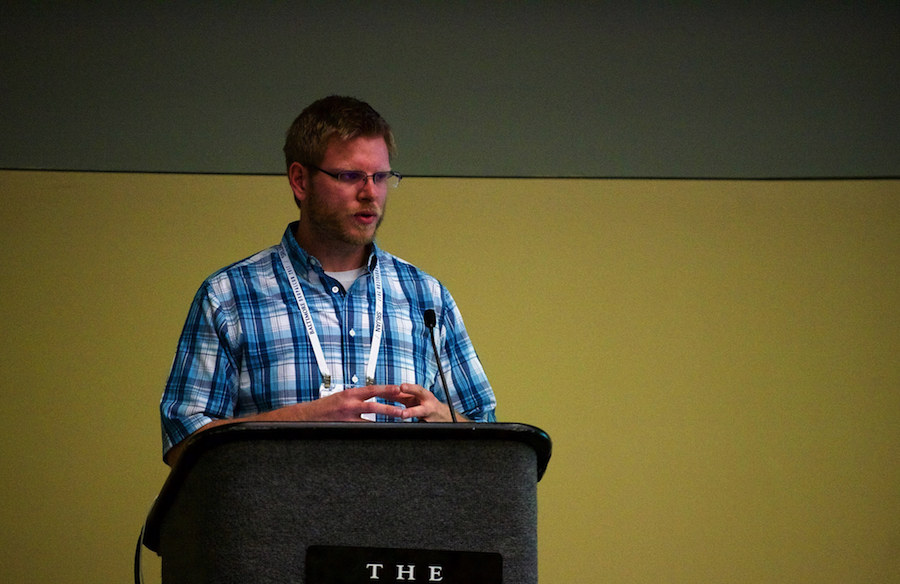 David Porter presents Web Performance in 2017 (Photo by Jeff Geerling)
An important lesson from DrupalCon 2017: if you're not talking performance with your clients, it's time to start.
Where do you start? Check out some of these web performance stats:
BBC has seen that they lose an additional 10% of users for every additional second it takes for their site to load
[source: WPO Stats]
Staples reduced median homepage load time by 1 second and reduced load time for the 98th percentile by 6 seconds. As a result, they saw a 10% increase in their conversion rate
[source: WPO Stats]
Once you've made the case for performance optimization, the next step is to develop a Performance Budget:
Set an overall limit for KB per page, based on page type
Define how many KB of resources you devote to specific page components: HTML, CSS, JavaScript, Images, Fonts, and Ads
Create a visual representation of the performance budget to teach your clients and set limits on resources per page
DrupalCon 2017 Sessions: Web Performance Optimization
Everybody's Agile
DrupalCon 2017 reinforced the value of the agile development method. At this point, almost every agency is using some form of agile to manage their development projects. Each agency does agile differently, depending on the size of their development team, work style, and project type. But there's consistency across the board. Most Drupal agencies are doing things like:
Creating a project backlog to prioritize work
Organizing work into development sprints
Manging project details with user stories and tasks
Using a digital project management tool like Jira or Trello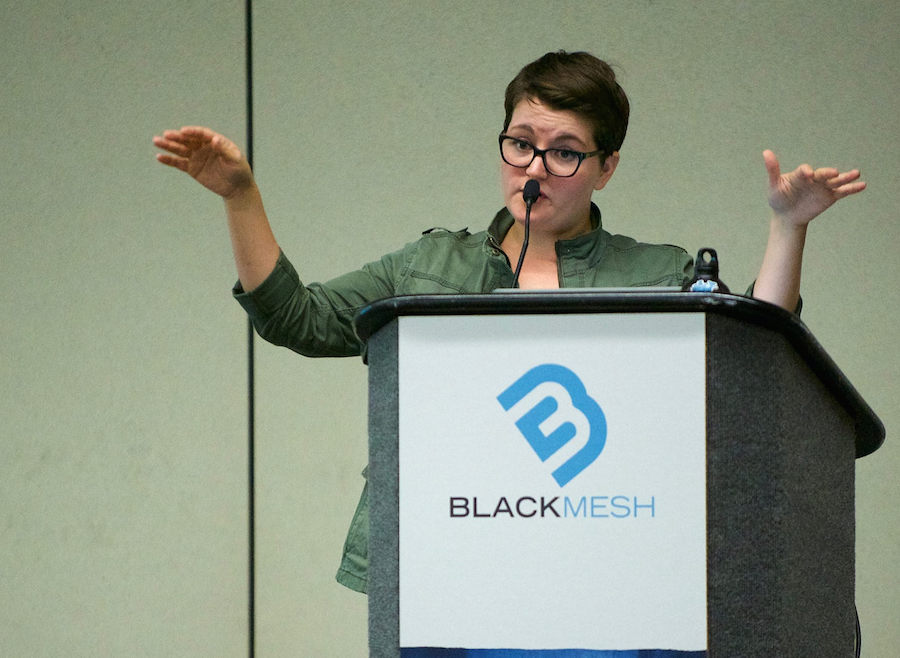 Stephanie El-Hajj presents From Specification to Collaboration; one Agency's Move to Scrum (Photo by Jeff Geerling)
One important takeaway from DrupalCon: the most successful projects involve client stakeholders in the agile development process. When your client is engaged with agile, you're more likely to deliver a build that meets their expectations — because those expectations are refined through collaboration.
DrupalCon 2017 Sessions: Agile Methodology
What's Next After DrupalCon 2017?
We're settling back into the office and returning to the groove of our working routine. So what's next? For us, the challenge is to apply what we've learned at DrupalCon to improve our working process. Each year, DrupalCon shows us what's possible — it's our job to integrate what's possible with what's practical.
And of course, the Drupal community runs deeper than a single annual conference. There's endless ways to get involved with the community through code contribution, conversation, and direct action. We're excited to continue our work with Drupal and this fantastic community. See you next year in Nashville!