My favorite Keynote from the 2014 Hubspot Inbound Conference was Dharmesh Shah, CTO & co-founder of Hubspot. He talked about a few things that struck a chord with the audience:
Hubspot's exponential growth
The importance of culture and how to build an amazing team
Like software, content is scalable — one piece of content can continue to add more value over its lifetime. So, we can expect content marketers' careers to take off like developers' have.
But, as someone who loves data and performance metrics, what I loved was a question he posed in his keynote: "What if you could report on the one metric that matters most?" He answered this question with true simplicity... REVENUE! This immediately made me think of website performance, and some of the key questions we ask our clients when measuring their websites:
Is your website able to generate revenue? Does it generate more revenue than it costs to develop?
Website measurement is very important because, to quote Dharmesh, "You can't grow what you can't measure." So we need to understand the role our website plays in generating revenue. Measuring website revenue can be more challenging than it sounds at first, because you need to find the right metrics.
Each website has some metrics which correlate with revenue growth, and these metrics differ based on the type of business and type of website. When you understand which metrics correlate with revenue growth, other vanity metrics will melt away, until only one metric remains... REVENUE!
The Magic Bullet of Digital Performance Metrics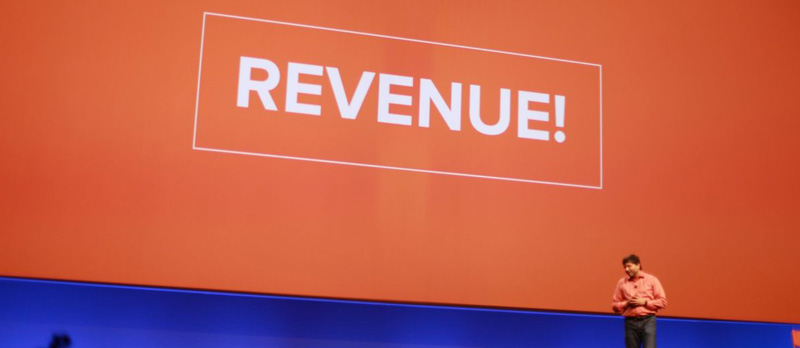 Since revenue is the ultimate metric, we need understand the role your website plays in generating revenue. This will vary depending on the type of organization you have. For example, a website's ability to generate revenue may be different for B2B company than it will be for a B2C company.
And your revenue metrics will be different if you have an eCommerce site, where you sell products online. Here's a simplified example of how revenue metrics might compare, based on the type of company and type of website:
B2B business, no eCommerce 

— your website generates leads

 for your sales team
B2B business, eCommerce site 

— 

 you sell subscription-based content or membership services
B2C, no eCommerce 

— correlation between consumer engagement metrics and sales, or conversion rate of specific web promotions

B2C, eCommerce 

— online sales 
Of course, your use case will be unique, based on your specific business needs, and your website will play a different role in your sales funnel depending on your business.
Regardless of your industry or website function, the core strategy is the same: define your revenue metric, and find other digital metrics which corrolate with its growth.
Need help finding your website revenue metric? We help companies measure and improve their websites, and we provide an introductory web audit as part of our process. Drop us a line or leave us a comment below and we'd love to help you learn more digital performance metrics.