If you're evaluating your CMS options, you might be considering Drupal vs WordPress. But it's tough to compare one CMS to another unless you first understand what kind of website you need. We can help you decide between Drupal vs Wordpress based on whether or not you need an enterprise-level CMS.
Since we specialize in Drupal development, and we also build Wordpress websites, we're often asked, "What's the difference between Drupal and Wordpress?"
One way to answer this question is to compile a long list of comparative features and specs for each CMS. If you've been requesting web proposals, you've probably seen your fair share of these lists. Everybody loves a laundry list, right? (We do too. Contact us and we'll send you all the lists.)
But before comparing CMS options, we recommend taking a step back and establishing some basic criteria for comparison, based on what you need your site to do. Because if you know what kind of site you need, it's much easier to select the right CMS for your project.
We've found that most web projects fall into one of two categories: basic sites and enterprise sites.
If you need a basic website, consider WordPress, where you have seemingly endless design options, and updating basic content is about as easy as maintaining your Facebook profile. If you need an enterprise-level website, Drupal is likely a better choice - flexible and powerful, it has a proven track record of successful enterprise applications.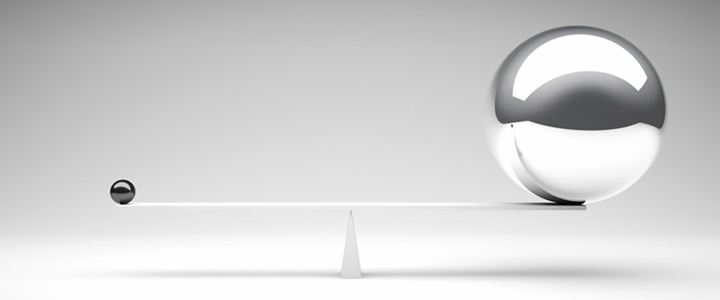 What's the difference between a basic website and an enterprise site?
Basic websites have a limited number of pages - probably 50 pages or less - while many enterprise-level sites have hundreds or even thousands of pages. But your site scope includes more than just the page count. For example, we may build a custom store location map with thousands of different locations. While the map is a single page, it contains thousands of "pages" worth of data, called up based on the user's location. So while the front-end page count is low, the technical scope is vast.
Beyond the project size and scope, consider the business value of your site. Do you expect the site to have a measurable impact on revenue? Have you thought about how you want to measure its success? On more advanced enterprise sites, answering these questions requires intense collaboration between marketing, sales, and technology.
If your site is broad in scope, and you expect it to have a measurable impact on your business, you probably need enterprise-level website design. If your site is smaller in scope, and you don't have defined expectations for its business impact, a basic website might be better for you. We specialize in helping companies determine what kind of website they need, so we put together some guiding questions to help you decide if you need an enterprise CMS.
Do I need an enterprise CMS?
What are your Site Objectives?

I have multiple site objectives such as lead generation, content publishing, eCommerce

Who are your User Groups?

My site serves multiple user groups with diverse needs and desires

What functionality do you need?

I need advanced functionality such as geolocation, eCommerce, API integration

Who will be managing the site?

My site needs multiple authenticated users and permission levels

How will you measure success?

I expect my site to make a measurable impact on revenue
Still curious about the differences between Drupal and Wordpress? Hankering for some lists? Check out this thorough comparison chart from WebsiteSetup.org 
Need to see some of that nitty-gritty CMS action up close? Drop us a line - we're always open to walking through specific examples or providing CMS demos for either platform.