We've created a guide to get you on the right path to tracking conversions in Google Analytics. Follow these instructions and you'll gain new insight into how well your website converts visitors in to leads in no time. The first five steps are simple, and the next six steps are a little more involved.
Let's first log into our Google Analytics account to get started:
Navigate To Goal Setup
Click "Admin" In The header
This will take us to the Administration Dashboard where we can adjust settings at an Account, Property or View level:
​

Under The View Column Click "Goals"
This will bring up all goals related to a data set:
​​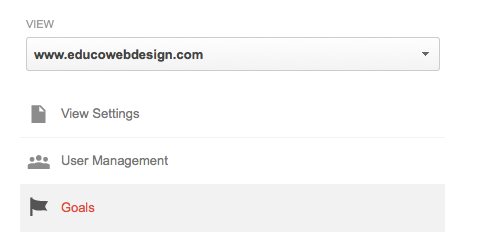 Click "+ New Goal"
Now we're ready to start creating our new Analytics Goal:
​​

Goal Setup
Select a Template or Custom Goal 
We can do either, but for simplicity let's use a template goal under "Inquiry" and select "Contact Us". This is a destination URL goal that will trigger a conversion after a specific page is viewed.
Or, if we really want to, we can create a custom goal and set the type as "Destination."
Either route will work. For the sake of this example, we're using a template 'Inquiry' goal: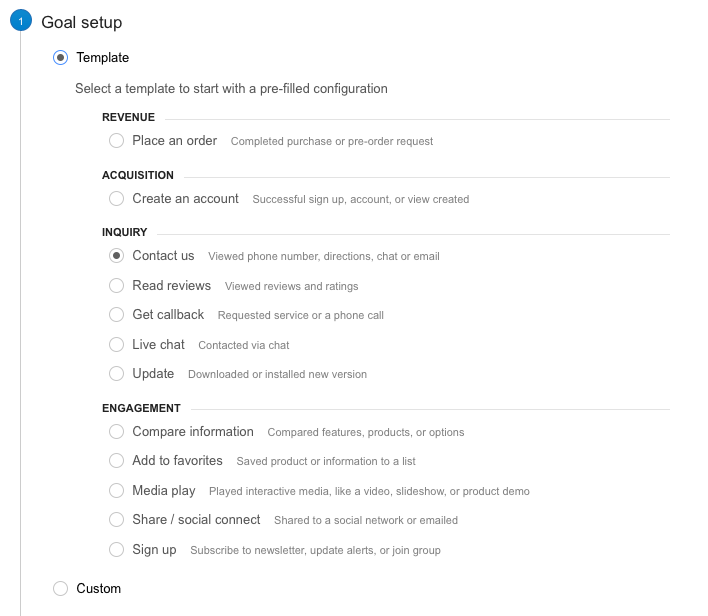 Goal Description
Customize Our Goal's Name
Is will vary between organizations and depending on what contact submission means to your business. Some examples are "Email Inquiry", "New Lead" or "Prospect". We can leave the 'Goal slot ID' and the 'Type' to the default options.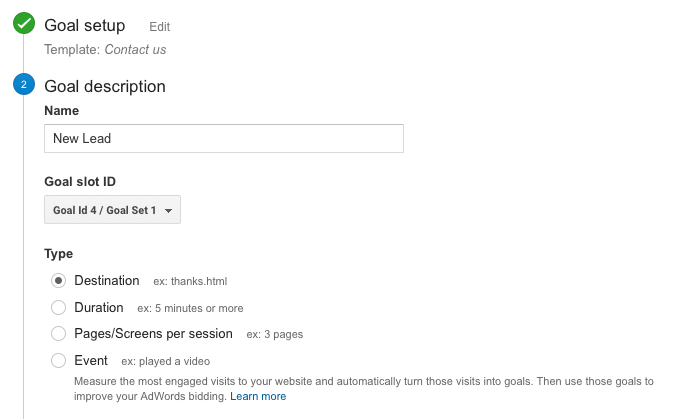 Goal Details
Input Our Goal Details
This includes our Destination URL, Conversion Value, Funnel Tracking, Verifying the Goal and finally creating the goal once we've verified that it's working. We'll go through each one in more detail below.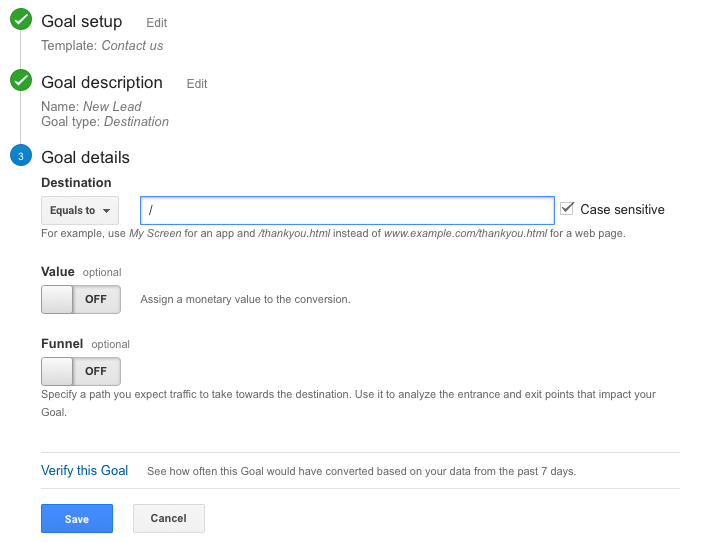 Setting Our Goals Destination - Use "Equals to"
We'll want to select "Equals to" from the drop down for the destination URL since the URL is not likely to be different from one transaction to the next. If you plan to use dynamically generated 'Thank You" pages then you'll want to contact your development team for how your URLs will be generated.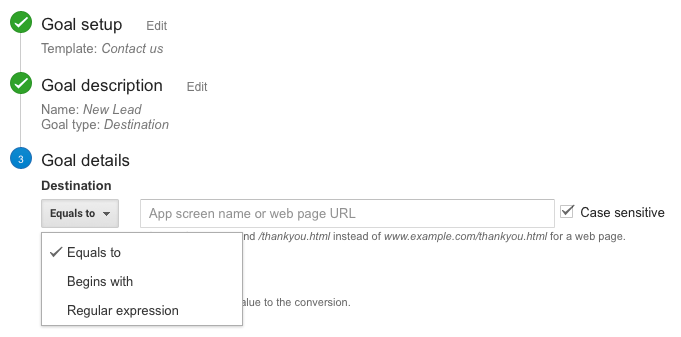 Our Goal URL Should Look Like This:
'/thank-you' or whatever your specific URL naming convention should follow.
(you can check the box "case sensitive")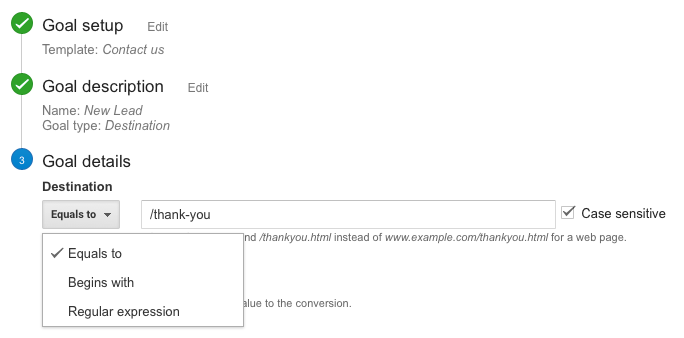 Tracking Value
If we have an average potential lead value we can turn on "Value" tracking. Going forward, when a goal is triggered having this data will allow Google to tie the value we assigned to each inquiry and show us an aggregate value of all the conversions (or opportunities) that came through our website and that were tracked in Google Analytics.
For our example we tied a $20,000 dollar worth to each email inquiry.
How did we get this number? We'll use the following equation: Avg Client Value x Conversion Rate = Lead Value
For the sake of example let's imagine a new client (on average) for our company brings in $1,000,000 in sales. Our ability to convert website inquiries in to new clients is 2%. So the value of a lead at this stage on an average client/projects worth time how likely it is we will get the business. And our equation would look like this:
This can be helpful info to analyze year over year to see how well our website is working to bring in new leads, well qualified leads and also look at how well our company is at converting those leads into new business.
1,000,000 x .02 = 20,000
This can be helpful info to analyze year over year to see how well our website is working to bring in new leads, is our website bringing in well qualified leads and also how is our company at converting those leads into new business.

Funnel Tracking
If we have a very specific path that visitors have to go down to submit a web inquiry and also we want to see where we're losing people in the inquiry submission process, we can turn on "Funnel" tracking.
If that is the case then we'll also need to add the sequential steps/URLs involved in the process (everyone's will vary slightly). We'll also want to mark if it is a required URL in the process or not.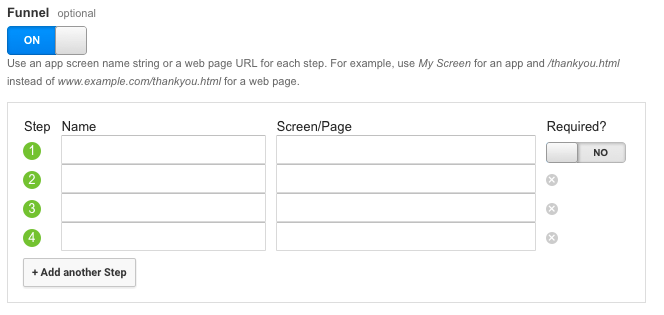 Verify & Create This Goal
Click "Verify this Goal" to see how it would have converted based on data from the past seven days. Then click "Create Goal" and we're done for now. It would be a good idea to check in on this goal over the next few days and the next couple of weeks to make sure the goal is firing when visitors land on inquiry 'Thank You' page.

Hope this was helpful, and we would love to hear any thoughts or questions in the comments below.