There are many ways to meaure the success of your website. Effective website measurement starts with collecting and interpreting data about your website performance.
For most users, Google Analytics is the place to start for website data. Google Analytics is a free tool that measures how visitors come to your site and what they do once they arrive. It's used by everyone from solo entrepreneurs to the world's biggest brands.
By using Analytics, we can get a better understanding of our website and the:
Audience - Who is using our website
Acquistion — How we're acquiring visitors
Behavior — What visitors do once they're on our site
Outcomes — Are visitors taking the desired action
While Google Analytics is a powerful tool, it can also present a considerable learning curve. In this post we introduce two essential concepts for understanding your Google Analytics data: metrics and dimensions.
Google uses these terms to describe website traffic:
Metric — A measurement
Dimension — An attribute of the visitor
Metrics describe activities. Dimensions describe visitors. Together, they can tell us who's doing what on your site.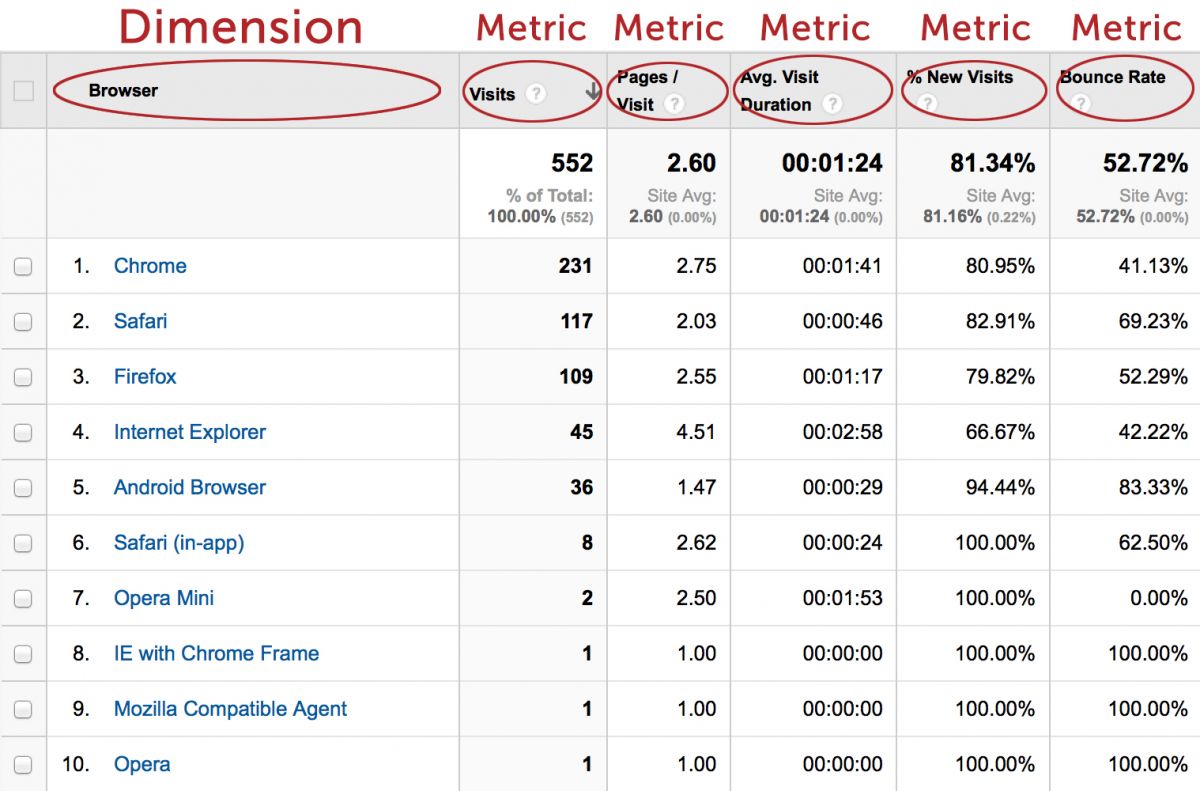 What are Metrics in Google Analytics?
A metric is a measurement. Here are some common metrics that we use to measure a website's performance:
Number of Sessions
% New Users
Pages Viewed per Session
Average Time on Site
Conversion Rate
In Google Analytics, Metrics reports can sometimes be viewed as columns in tables and they also be viewed as graphs. Like this line graph below that shows the metric - Sessions - given a time period of 5/27/14 - 6/25/14. It also shows a pie chart that gives insight into the percentage of New Visitors (Blue) vs the percentage of Returning Visitors (Green).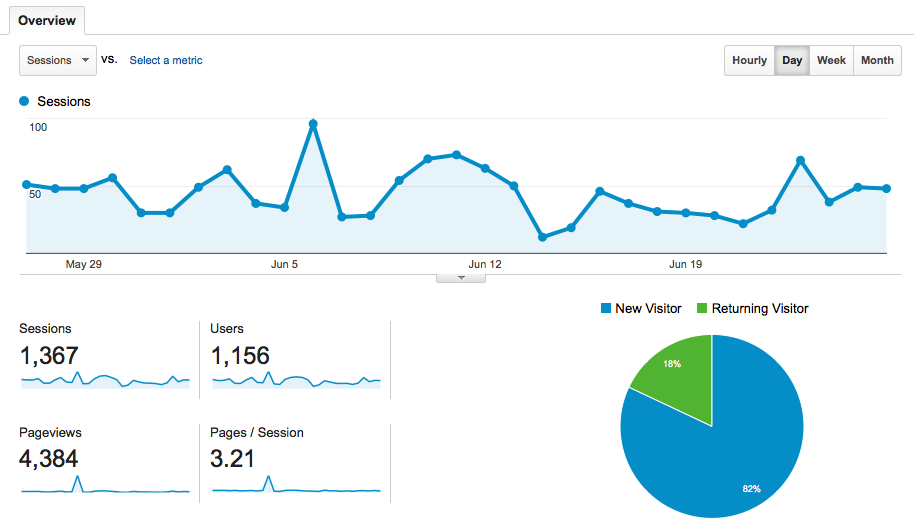 When analyzing metrics, it's important to consider the period. Make sure to note if you're looking at weekly, monthly, quarterly, or annual data. If your site was recently launched, you'll need at least a few months of data for meaningful analysis.
Often the most useful data comparisons come from year over year data. For example, we might compare the % of new visitors in March 2013 vs. March 2014.
What is a Dimension in Google Analytics?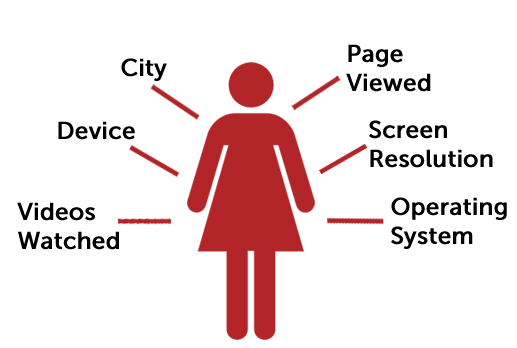 A dimension describes an attribute of the visitor. Here are some common dimensions we use to measure website performance:
City
Source (how they found you)
Pages viewed
Mobile Device
Operating system
We can go deeper with dimensions, which can also describe on-site user activity. For example, we may have the following questions about our users:
What landing page did they visit?
What subsequent pages did they view?
What videos did they play on site?
What searches, if any, did they run on the site?
What products did they purchase?
Each of these is a dimension. At first, they may sound like metrics, but they are dimensions. A metric is quantitative, a dimension is qualitative.
Data Segmentation — Combining Metrics & Dimensions
Dimensions allow you to group your data into different buckets, to make it easier to interpret. They are most frequently used to slice and dice the web analytics data through a process called segmenting.
For example, let's say you have 2,000 total visits in one week. This is a metric. If we segment this data based a particular dimension, we can glean meaningful insights about our users.
Let's say we pick a metric like "Mobile Device" and we find that 1,500 of our total weekly visits come from mobile devices. With 75% of our users arriving via mobile, we should pay attention to our mobile experience. We want to ensure that these mobile users find what they need.
Meaningful data segmentation will typically be more complex and specific than this example, but the principle is the same. When we understand how to use metrics and dimensions together, we can interpret data and develop a more informed website strategy.