I'm excited to announce that our team has developed a custom Drupal keyword optimization module. It's transforming content marketing and keyword optimization for our clients and their websites.
We'll be rolling this module out and offering it to all current clients over the next year, and plan to build it in as a default feature for all Drupal sites we create going forward.
What We Did
We exposed two fields to views:
One field displays the meta tag values
The other field displays editable meta tag titles
With our custom module we can optimize the content on our clients' websites in seconds.
Why It Matters
The module we created solves a problem that has been outstanding since Drupal users were asking about it in 2013. This is a familiar issue for many marketing managers and developers that use Drupal. They've been asking:
Is it possible to bulk update the meta tags for a particular content type?
See below the comment from a disheartened Drupal user back in 2013.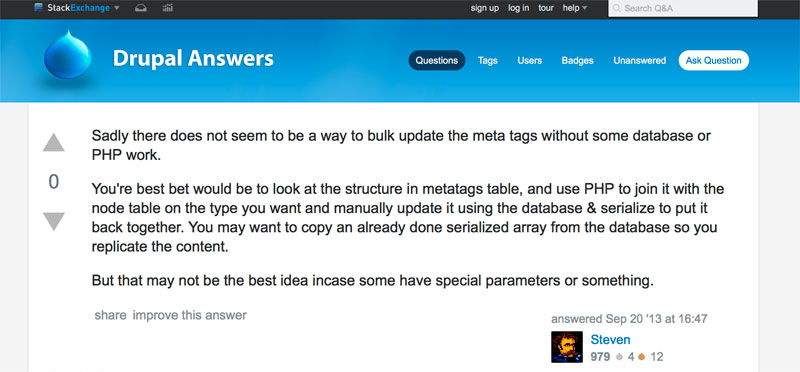 As you see in this thread, Drupal users have been looking for a way to manage meta page titles in bulk — but until now, meta data could only be managed at the page level. This made for a labor-intensive approach. Drupal users would have to:
Create an organized spreadsheet of all the site pages, and respective meta data
Copy and paste page titles, descriptions and key phrases for each page
Replace the old key phrases in the spreadsheet with the new target key phrase
Copy and paste the optimized meta title, description and key phrase from the spreadsheet into each Drupal page or node instance
Depending on how many pages we have, this could take days or weeks.
How It Helps Our Drupal Clients
Our module allows us to quickly view all meta values and opens up the all meta tag titles for bulk administration.
We've also created a separate view that allows us to quickly update image alt & title text.
This will empower content and site administrators to sort content by keyword category so that we can bulk manage and modify meta data.
This eliminates the need to use a spreadsheet and copy and paste from the spreadsheet to Drupal.
Here's an Example
Let's say that we're a Music College and in the past we've used the following key phrase approach all throughout our 400+ concerts, 1,000+ pages, and 1,000+ images:
"our university name" + "school of music" + "page name"
After a little research we find students looking for the leading Music Programs don't search "school of music," but that they actually use the phrase "music college."
Imagine having to click through each of those concerts, pages and images one by one to replace "school of music" for "music college".
It sounds gross, right?
With our module we'll be able to view and edit all the concerts, pages and images that previously used the term "school of music" in the Drupal CMS and bulk update those key phrases to rank for "music colleges." 
Not only will this save us countless hours it will also empower us content marketers to improve our Drupal site's rank in Google in a matter of minutes. As long as proper keyword research has been done we'll demonstrate to Google that we're listening to our users and we're trying to better indicate our relevance.
Our students and Google will thank us. 
Who Did It?
Our Senior Developer, Olu Adeyanju made this module possible. So we owe a great deal of thanks to him. When asked to comment Olu said, "I used this patch as base and then made some custom modification." 
Why Did We Do It?
This has a lot of benefits, but a big push came from our own team that spends hundreds of hours each year optimizing thousands of pages across many sites. So this will have a great deal of benefit for our team, too.
We want to share this with our clients so that they can be site optimization ninjas.
How Long Did It Take?
It's hard to say in hours just how long it took us to develop because we have been thinking, researching and learning from the failures and frustrations from many other Drupal developers over the past few years. But now that it's here, we can install and deploy it on a site all before the end of the day.
Want to get a closer look at this feature? Want to learn other ways to optimize your Drupal site for search engines? Reach out to schedule a demo!