If you are an Administrative user of your company's Facebook Page, here is a quick walk through that will allow you to grant permissions to other members of your team, outside vendors, and other people who need to collaborate on your Facebook page.
In our example we'll be adding our co-founder Chris Mickens with Admin level permissions to the EDUCO Facebook page.
Log in to your personal Facebook Profile
You'll know that you're logged in to your personal profile because you'll see your profile photo in the header.

Select the Facebook page you want to manage users on
If you have access to multiple Facebook pages - In the drop down menu item in the far right of your header select the Facebook Page you want to manage. For this example we are using EDUCO's facebook page.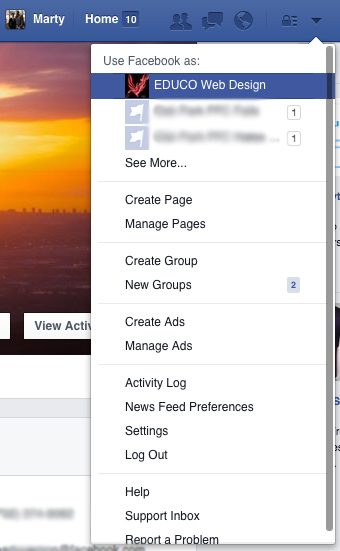 Navigate to the settings tab of your Facebook page
On the far right you should see a tab titled 'Settings' - click that.

Navigate to 'Page Roles' under General Settings
Look under General settings for the 'Page Roles' tab - click that.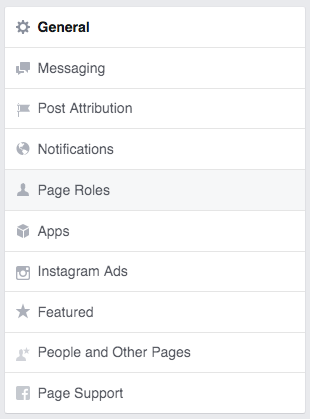 Enter the new user's email
In this field we'll need the email address that is tied to the new user's personal Facebook profile. 
*Note the new admin user needs to 'Like' the business page before you can finish adding them as an admin on the account.

Select the role for this new user
The email address above belongs to one of our co-owners so we're going to give her administrative permissions. Here is a great resource from Facebook if you'd like to learn more about user roles and what permissions come with each role.

Save your new user
In the event you are adding a new admin user Facebook will display a little note that this person will have "the same control as you" i.e. add and remove other users.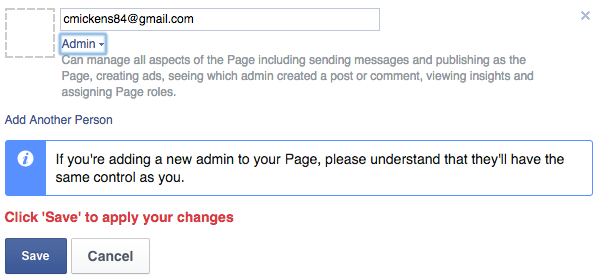 Verify your changes
After you click 'Save' a new pop up window will appear asking you to confirm your password for security purposes.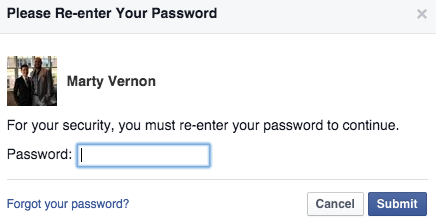 If you made it this far you should see the new user in your account list of other current managers. Your new user should see this new Facebook page in their personal profile list of Facebook properties they have access to collaborate on.
If you have a question we would love to hear from you in the comments.