You will need a GMail account in order to start this process. We're going to assume you already have one and proceed to the 13 simple steps that will get your Google Analytics account set up so you can start tracking your company's web traffic. Depending on our internet connection and speed this will take about 2 minutes from start to finish.
Let's Sign in to Our GMail Account
Before we start, we'll need a GMail account.
If we don't have a GMail account and before we tie our business Google Analytics account to our personal email, let's take a moment to think about this. Once we set this GMail account up our Google Analytics it will be tied to that email forever.
We can manage and give out permissions to access the Google Analytics data, but if we ever delete or lose access to this GMail account we will also lose access to all our website data.
If we don't have a GMail, account the recommended approach is to create a GMail account in the name of the business. That way if we ever sell the business we can easily transfer over the GMail account and Google Analytics data with it.
We have a great post with other tips on Digital Governance and how to make managing your digital assets a breeze if you're interested.

Go to Google Analytics
Visit http://www.google.com/analytics/ and let's begin setting up our account by clicking "Sign In To Google Analytics".

Click the Button "Sign Up"
We'll know that we're logged in because we'll see our email address in the header.

Select the Item Which We Would Like to Track
We can track either a Website or a Mobile App. In this example we'll be tracking a website.

Enter a Name for Our Account
This can simply be our business name.

Enter Our Website/Property Name
This can be our website URL.

Enter Our Website URL
This should be our full website URL including the www. and we'll also need to select whether our website is http:// or https://. If we're not sure, it would be best to consult our IT department or web development team.

Select Our Industry Category
Using the drop down menu pick the closest related industry available. According to Google this data is so they can "...work towards building tailored reports, customized communication, and better education material. Your selection does not affect tracking and data collection."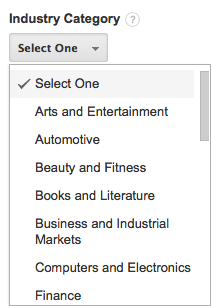 Select Our Time Zone
This will be used as the "day boundary" for our data reports regardless of where the website traffic comes from.

Choose Our Data Sharing Preferences
Essentially, if we elect to share our data Google will keep our identity confidential, but they will share the raw data to give other users insight into how our respective industry as a whole performs. We can read more about Data Sharing Setting in Analytics Help.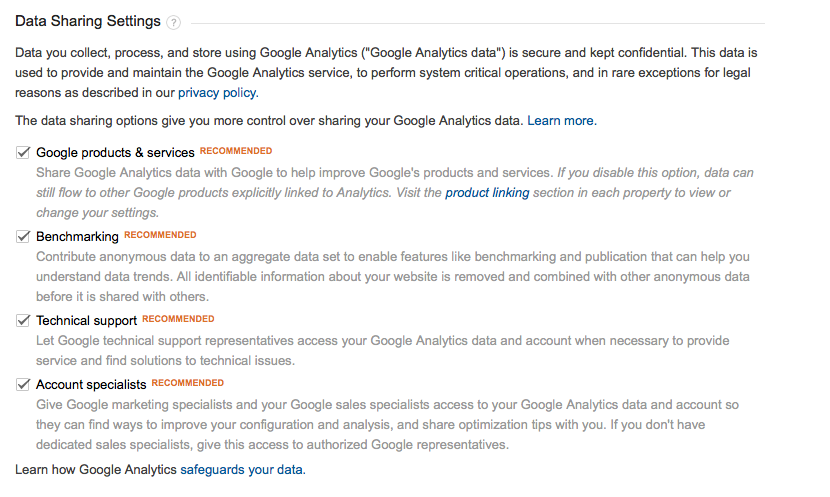 Click "Get Tracking ID"
Once we have established our sharing preferences we're ready to complete the setup process and get our tracking code.

Click "I Accept" for the Terms of Service
A Terms of Service box will pop up. It's totally up to us to read through the terms of service, but we'll need to click "I Agree" in order to proceed. Otherwise, if we don't agree to the terms, Google won't provide us with a Tracking ID.
Copy & Paste The Code onto All Pages of Our Website That We Want to Track
Most people elect to send the code to their web developer or web team. However, we can take a DIY approach by copying and pasting the entire code snippet into the source code of every page of our website that we want to track. Paste the code right before the </head> of each page.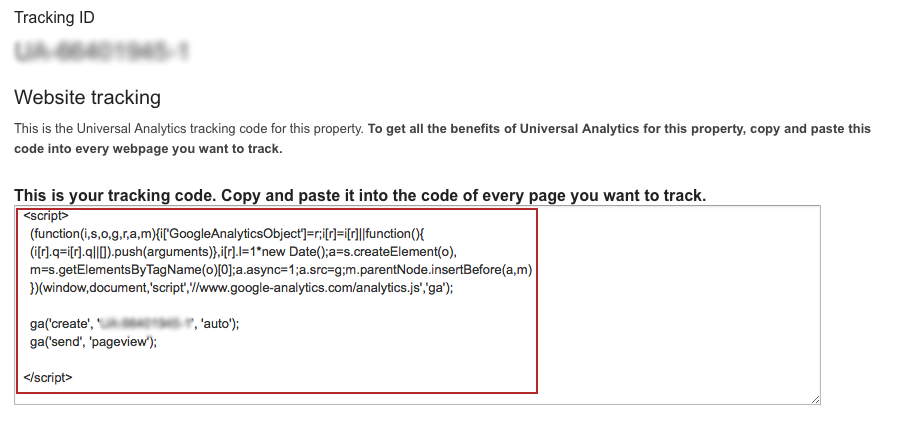 CONGRATS! We did it! To check that our code is working we can check out this resource from Google called Set up the Web tracking code. As a first line of confirming that the code is working we can check back in 24 hours to see if that data is coming through.
If you'd like to keep going here are some more Google Analytics Resources: