Allow us to introduce myEDUCO, our client website maintenance and support portal. We built it in 2013 and rolled it out in 2014.
It's no wonder that 96% of our clients want to retain us for either routine website maintenance or more aggressive web marketing projects or both.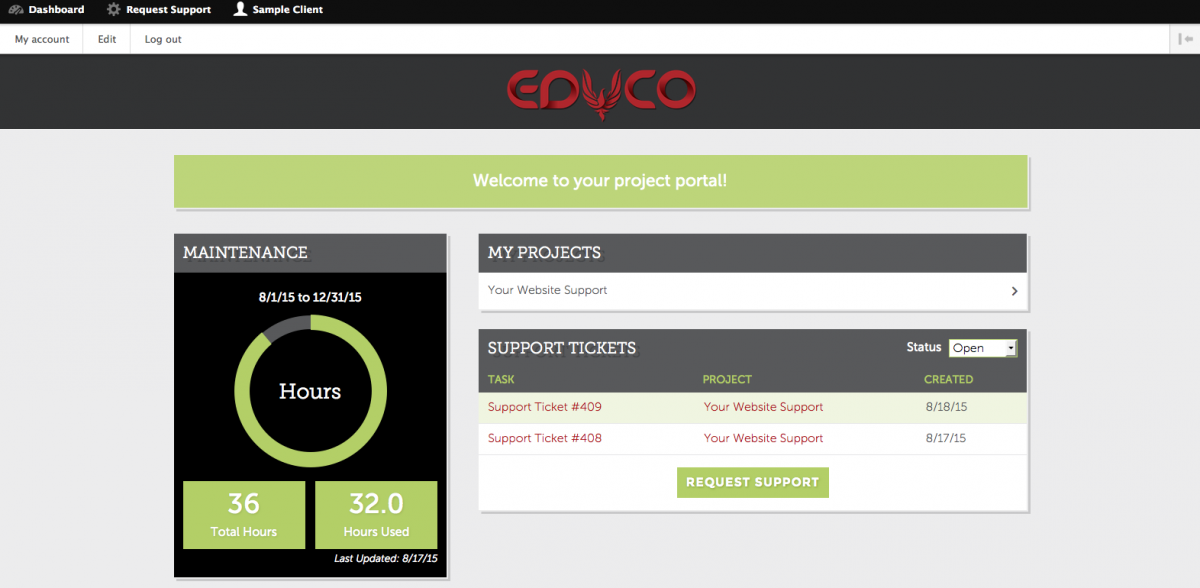 Our first feature we'll look at is the Support Ticketing System. We've built a simple, easy-to-use support interface where you can submit all your website updates and requests. This will help us serve you better and resolve issues faster. 
This page has everything you need to start submitting support requests:
Over time, we'll be adding more documentation to this page, so be sure to check back soon.
1. Log in at my.educowebdesign.com
Log in to your myEDUCO portal at my.educowebdesign.com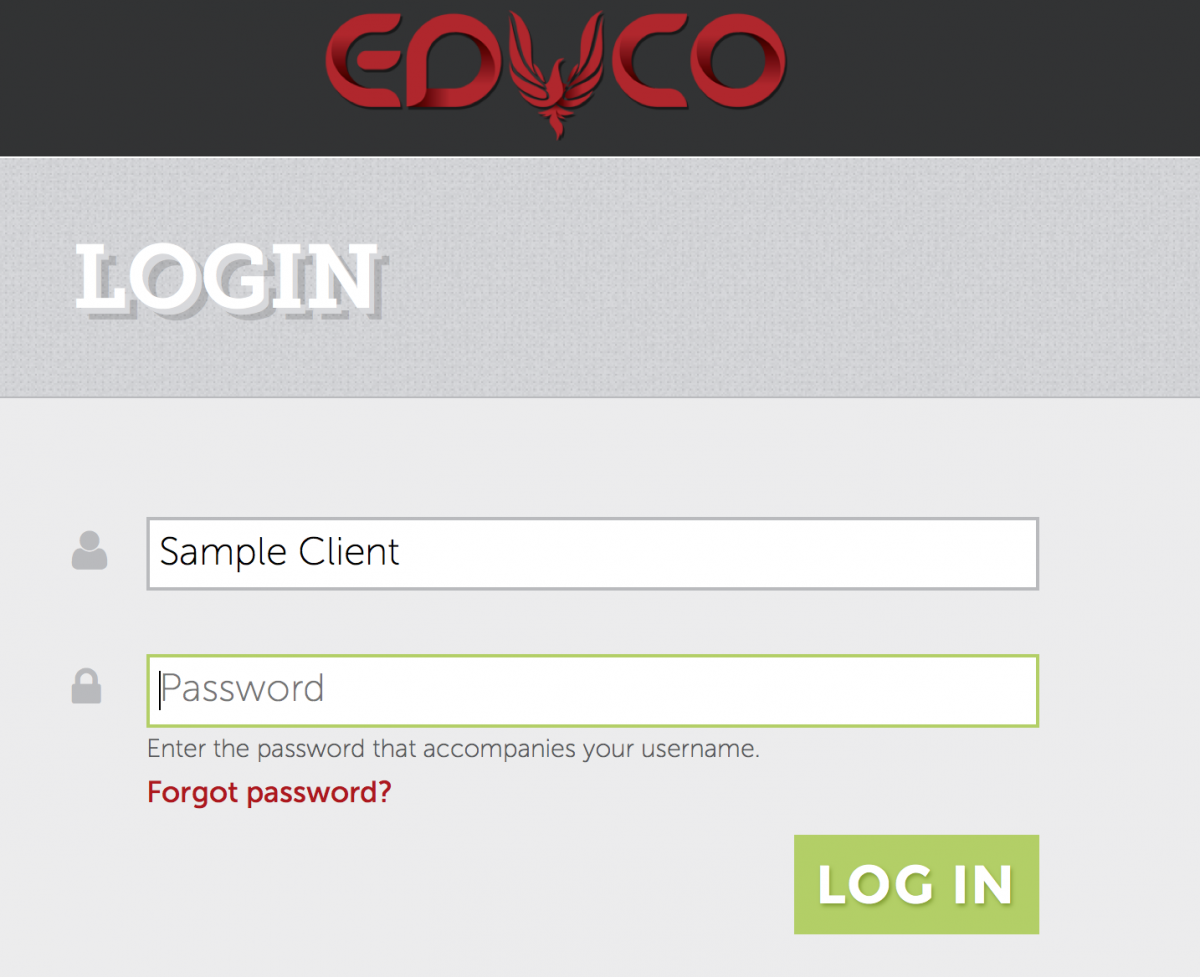 2. Click "Request Support"
In the menu navigation, select "Request Support." Or, click the "Request Support" button in the Support Tickets dashboard block: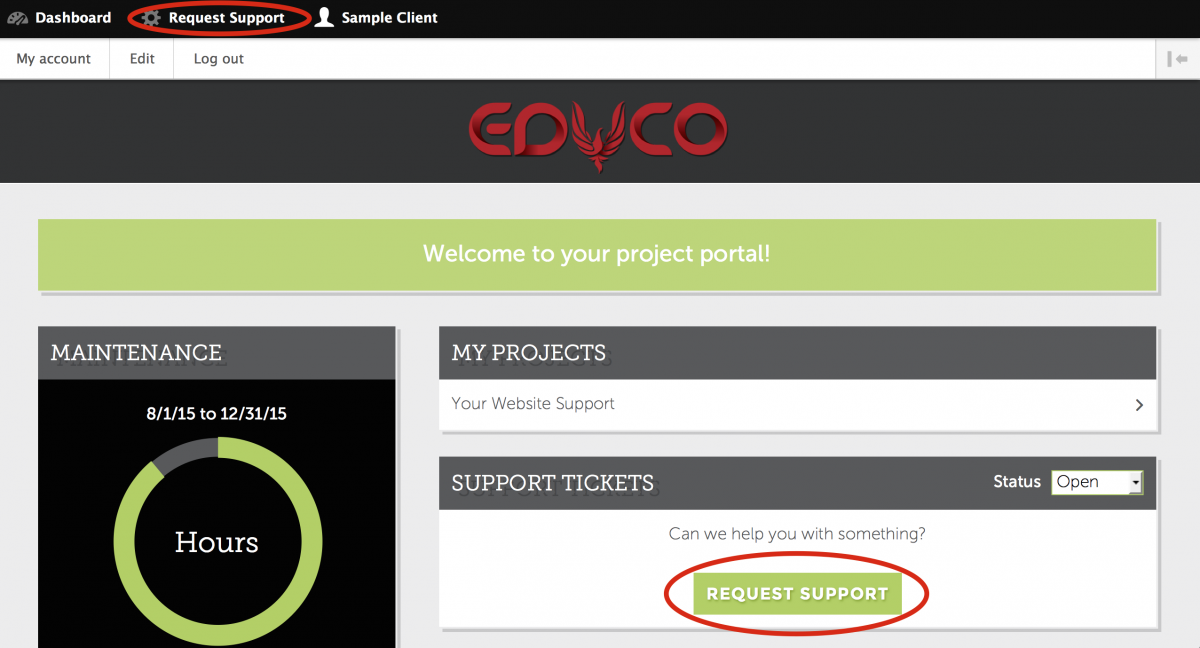 3. Fill out the Website Support Request Form 
Start by confirming your email address and selecting your web project. Then, tell us what kind of support you need: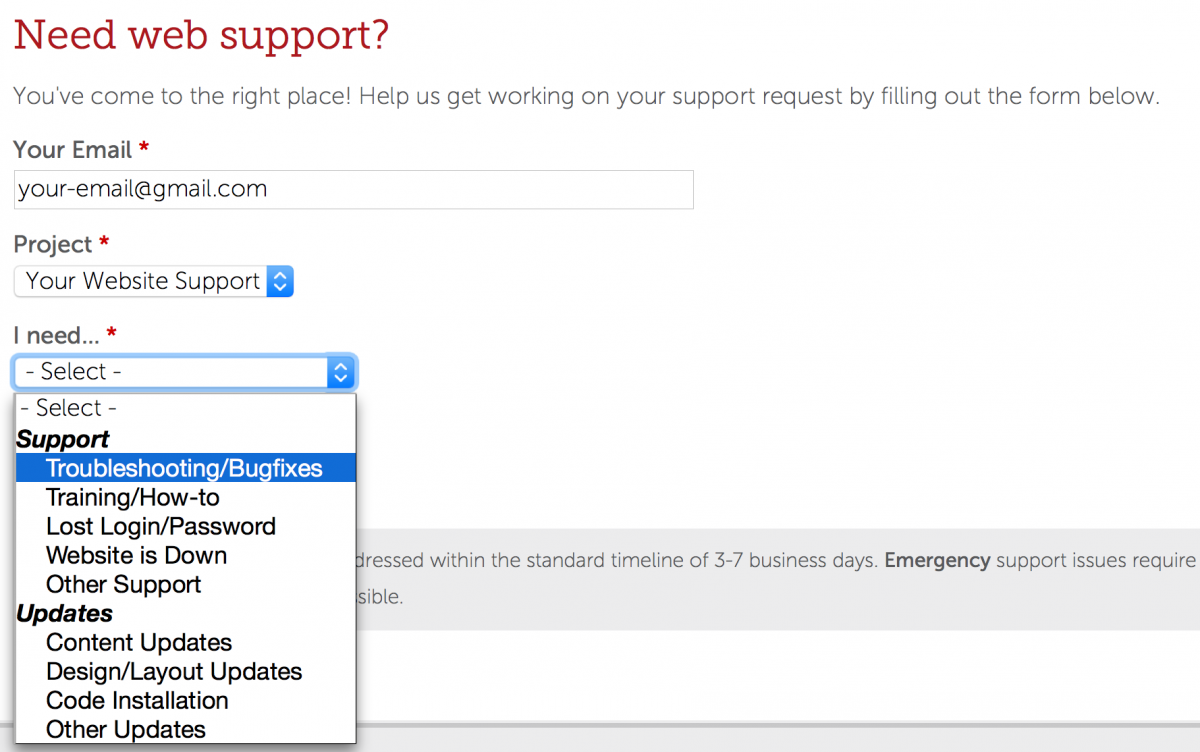 4. Set a Priority for Your Support Request

When selecting your request priority, please note: Standard support issue can be addressed within the standard timeline of 3-7 business days. Emergency support issues may incur additional costs because they require immediate investigation and resolution where possible.
5. Submit Your Request
Click "submit" and you're good to go!
Specificity Helps
When describing a website issue, use specific language with direct reference to the website. Describe what you experience in concise, step-by-step detail.
Let's say you encounter a problem with the bios on your Company page. How would you describe this issue?
OK

The "Company" page isn't working right

Better

We're having a problem with the bios on the "Company" page

Best

There's an issue with the sort function on the Company Bios. I created a new bio and checked the box for "executive team." However this bio is not showing in the "executive team" section. Instead it appears in the "general leadership" section.
The Best description is most helpful because it:
Identifies the functionality: "sort function"
Identifies the location: "Company Bios"
Provides a step-by-step walkthrough: "I created a new bio..."
Include the URL
Most website issues involve specific pages on your website. Help us find the right pages by listing out the URLs in question: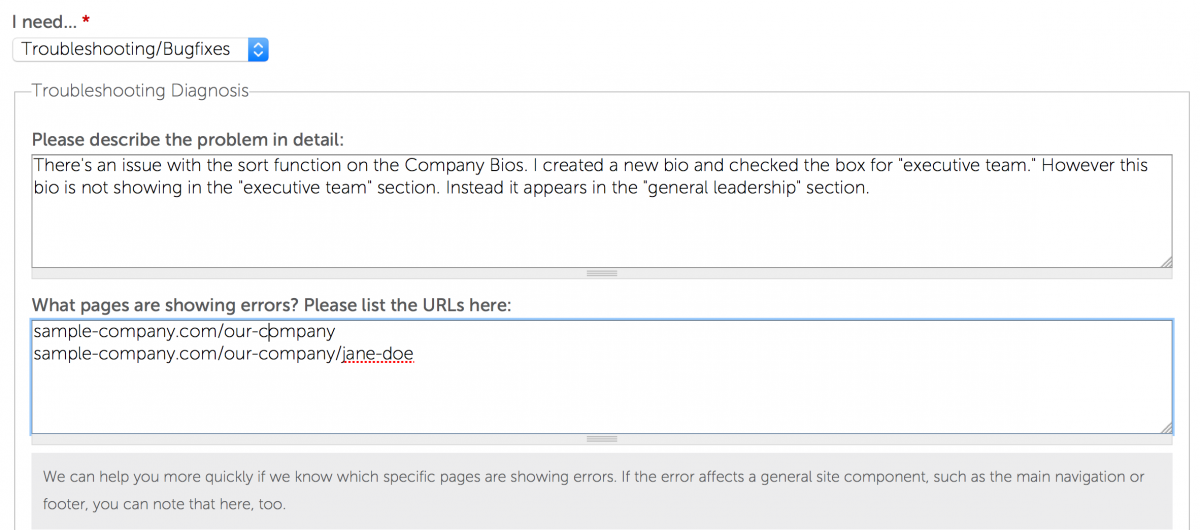 Include Browser and Device Info
On the modern web, many troubleshooting issues are browser or device specific. When we troubleshoot, our first step is to try to replicate the issue in different browsers and devices. You can help us get a head start by providing this info in your support ticket:

Upload a Screenshot
We're a curious bunch, and we like to know exactly what you're experiencing on your end. So, if you're getting an error message or seeing a problem on the front end, why not take a screenshot? You can upload it directly to the support form: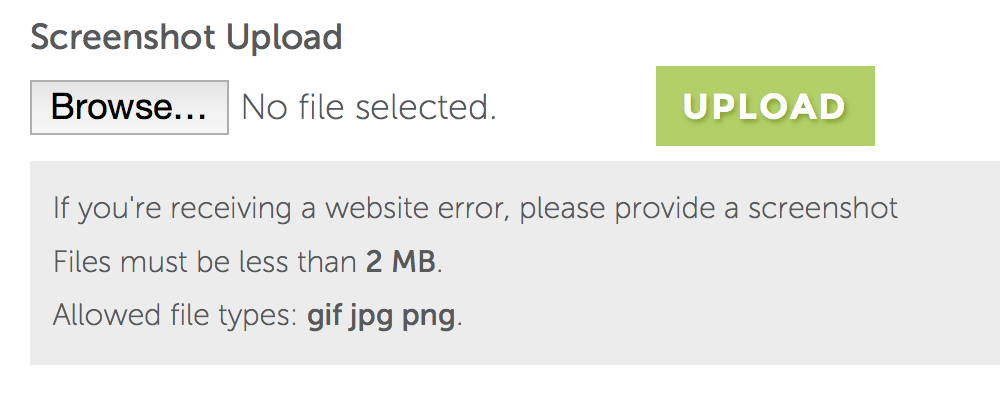 Need help taking a screenshot on your computer? Check out these tutorials:
You'll get an email Confirming Your Ticket
Check your inbox to make sure that you received a support ticket confirmation. If you don't see it, be sure to check your SPAM folder.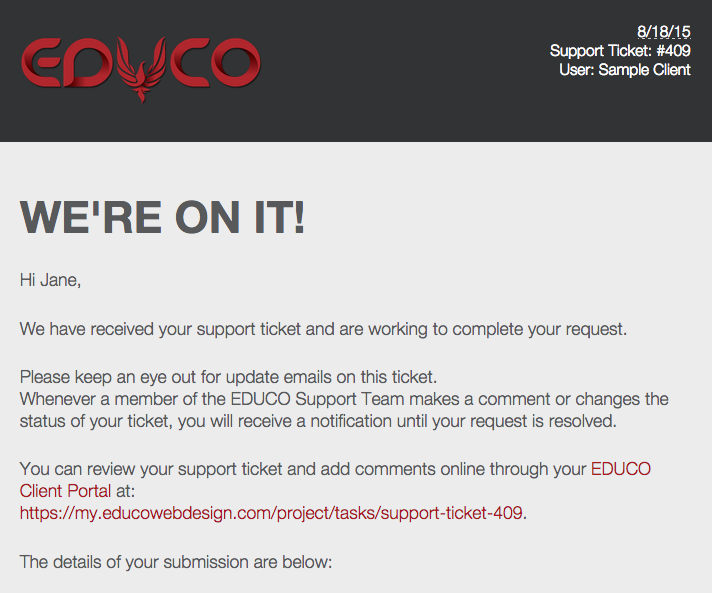 You'll See Your Ticket on Your Home Dashboard & Project Page
At my.educowebdesign.com you can see all support tickets: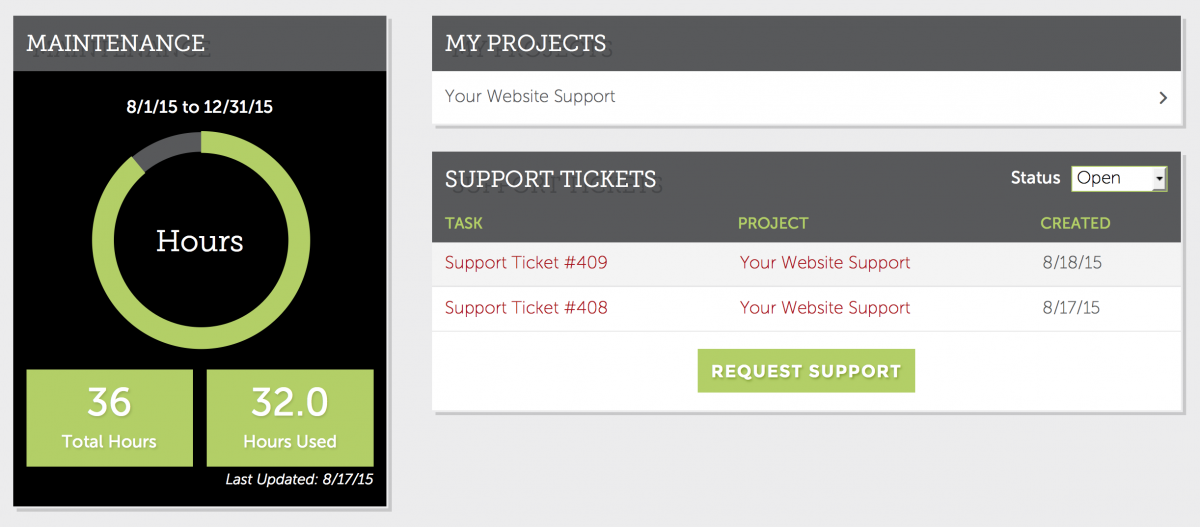 And on your project page, you can see all open tickets for a specific project:

We'll review your ticket, mark it "in progress," and start working
You can monitor your ticket status on the Support Ticket Detail Page: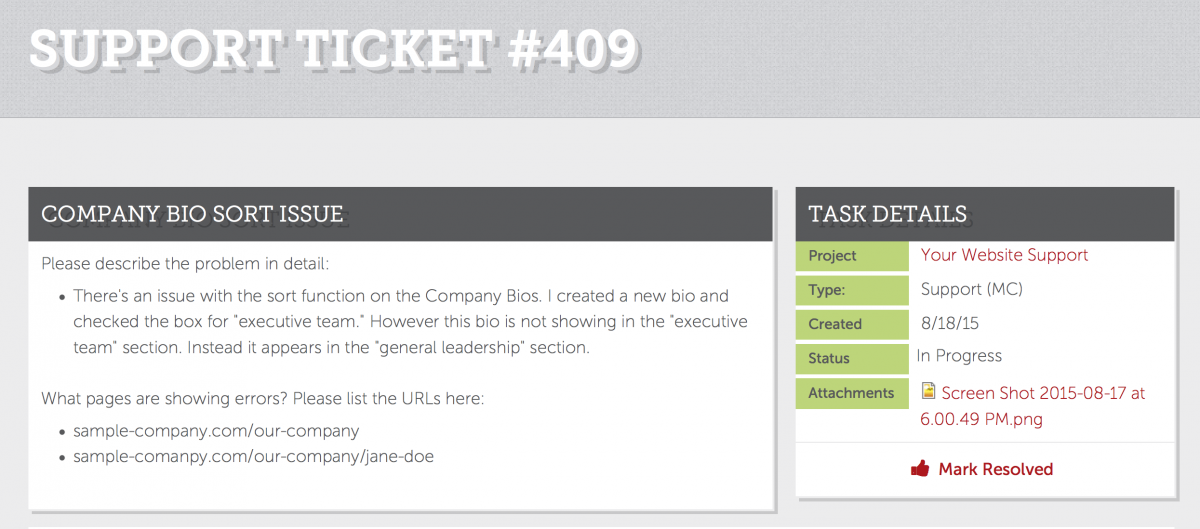 We'll Fix the Issue
When our work is done, we'll mark the ticket as "complete" and add details in the comments: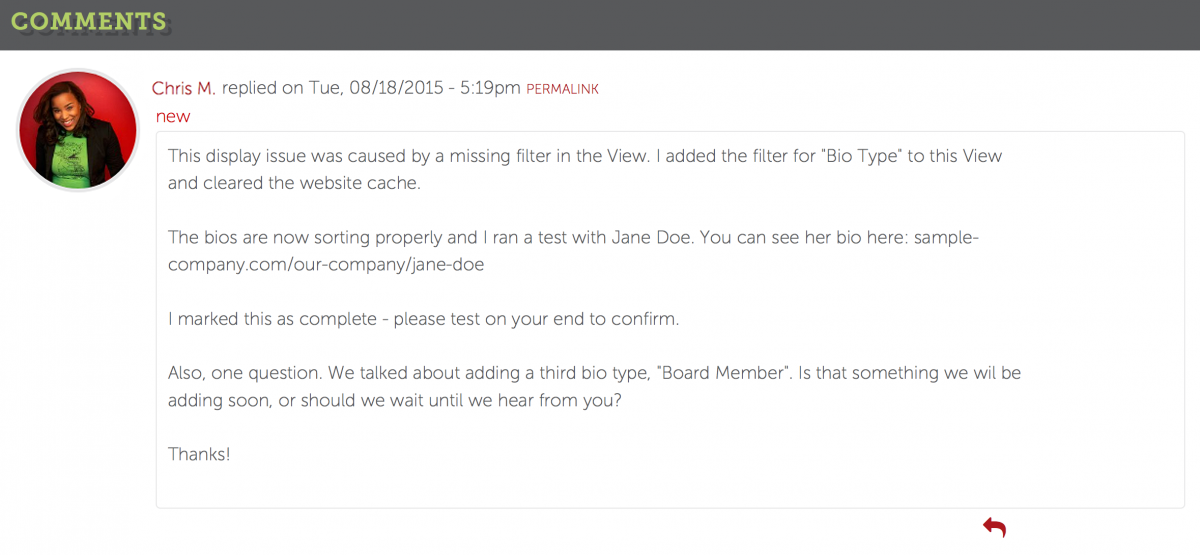 You'll Reply to Our Comments with Any Questions

You'll Mark the Issue as Resolved
When the ticket is complete to your satisfaction, you'll mark it as "resolved":