Back to top
With an EDUCO support agreement you'll receive 24/7 access to our custom myEDUCO ticketing portal. Our custom built Drupal support portal offers access to our team of project strategists and developers to help address a broad range of issues and enhancement based goals for your website.
Direct access to EDUCO team members
Email notifications of ticket status
Real time comment notifications to help get issues resolved quickly and accurately
Ticket archive to review any prior requests
Access to training materials
Our Support & Enhancement Services
CMS Training
Copy and media updates
How to use newly added functionality
Trouble-shooting
Content not displaying as expected
Investigating and resolving error messages
Website Outage
Immediate investigation and troubleshooting to get websites back online and functioning
Functionality Enhancements
New module or plugin enhancements to address evolving business needs
Content Updates
Making client-supplied copy updates 
Creating web forms
Optimizing images
Design Updates
Redesigning web page templates
Designing new pages
Creating graphics
Code Installation
3rd-party code installation
Password & Login Issues
Trouble logging into your CMS
Updating user access for turnover & new hires
No alarms and no surprises
What to Expect When Submitting a Support Request
Once you've submitted your request you'll receive an email confirming your ticket has been received and that our team is on it! You'll be able to track your ticket's progress on your portal dashboard and interact with our support team to get your issue resolved. Once the ticket is complete you'll receive a final email notification that the ticket has been completed, and if you are satisfied, you can mark the ticket "Resolved."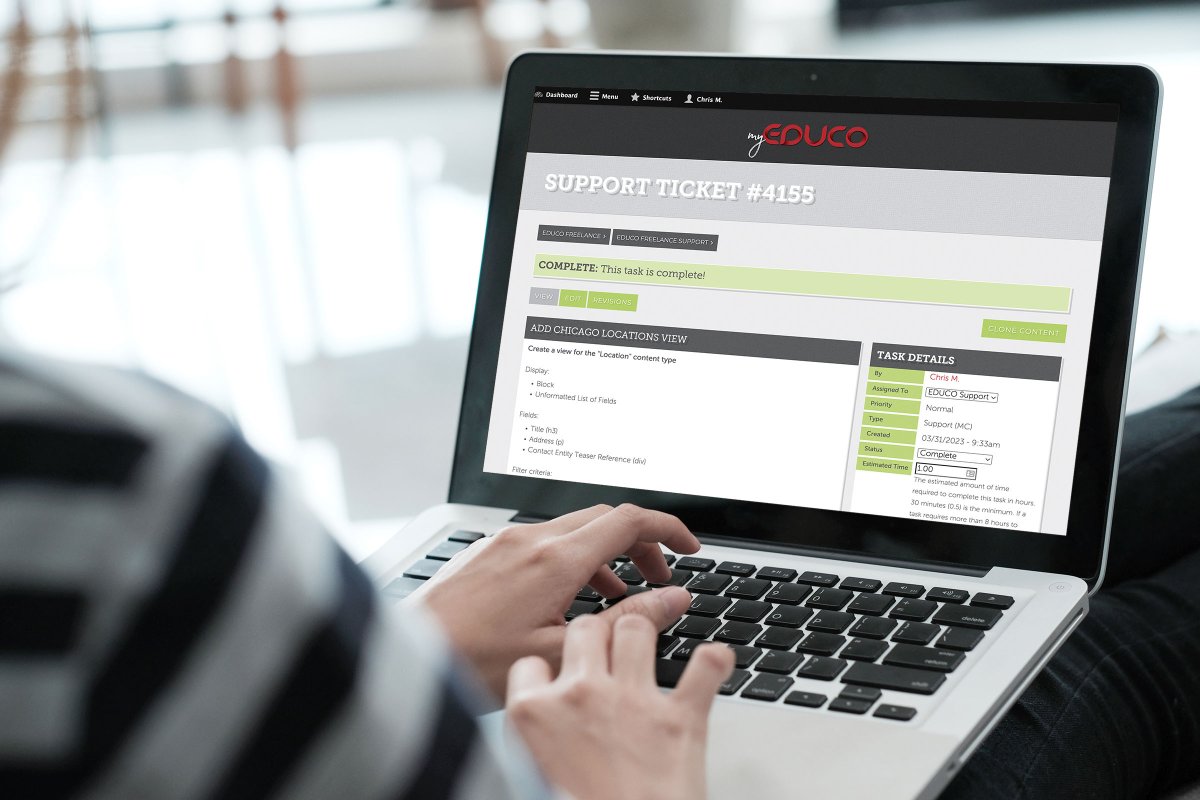 Standard Requests
All support ticket requests are standard unless your site is down. Response and resolution times are based on your support package tier.
Emergency Requests
Tickets are designated as an "Emergency" if there are major problems that impact the functionality of your website or your ability to do business. Emergency tickets are investigated immediately and resolved as quickly as possible.
Response Times
EDUCO will respond within the timeframe designated by your support package tier to ask any clarifying questions, request additional assets, or add the work to the production queue. Response times range between 1-2 days.
Resolution Times
We aim to have all tickets resolved up to 6 days after submission. Resolution time is based on your support tier coverage. EDUCO's ability to resolve tickets within the designated time frame depends upon receiving timely responses to ticketed issues.
Site Security
Quarterly Maintenance
Technical site maintenance is part of our ongoing effort to ensure that your site is secure and functioning at peak performance. Every quarter we will implement security updates and perform standard system maintenance tasks. During the maintenance period your site will experience no down time. There are no specific actions required on your part for these updates and they will include the following:
CMS and module security updates
Bug fixes
Offsite backups
Website Hosting
Pantheon is EDUCO's preferred hosting partner. If you choose to host your website under our agency account, you would submit hosting issue support tickets directly to us so that we can resolve any issues on your behalf. Alternatively, you may set up your own account which would give you access to Pantheon's 24-hour chat for any hosting-related issues.
In addition to providing automated daily backups, Pantheon is a Drupal and WordPress oriented platform with security baked in. Pantheon hosting can be added to the Help Desk + Security package for a fee based on website traffic. Pantheon hosting is included in the + Site Enhancements and + Proactive packages and is subject to traffic and not to exceed 25,000 sessions/month or 125,000 page views.
Let's talk
We'd love to support you