What makes a good university website? At first, this question seems too broad to be meaningful. Every university has it's own unique message, content, student body... so how could we say what makes a website work universally?
We can't.
But when you consider that most college websites serve similar functions and goals, trends and patterns start to emerge. Some common goals include:
Providing prospective students with useful information and a clear next step to start the admissions process
Delivering resources and information for current students
Enabling the marketing and admissions teams to generate inquiries and track site performance
Empowering content managers, marketing managers, and administrators to post content quickly and easily
When you approach your site design from this perspective, you can quickly see what works and what doesn't. We've used our experience auditing, building, and analyzing websites to provide these 5 Pillars of Effective College Websites.
1. Request Information (RFI) Forms
Use simple, exposed forms
"Request for Information" (RFI) is a key conversion touchpoint for college websites. When a prospective student requests information, they take the first step in the admissions process. From there, your admissions department has the basic information they need to reach out, follow up, and guide the student through key admissions questions.
When designing RFI forms, consider the following:
Make your forms easy to find
Minimize friction on the form itself
Provide a consistent thank you page experience, including submission tracking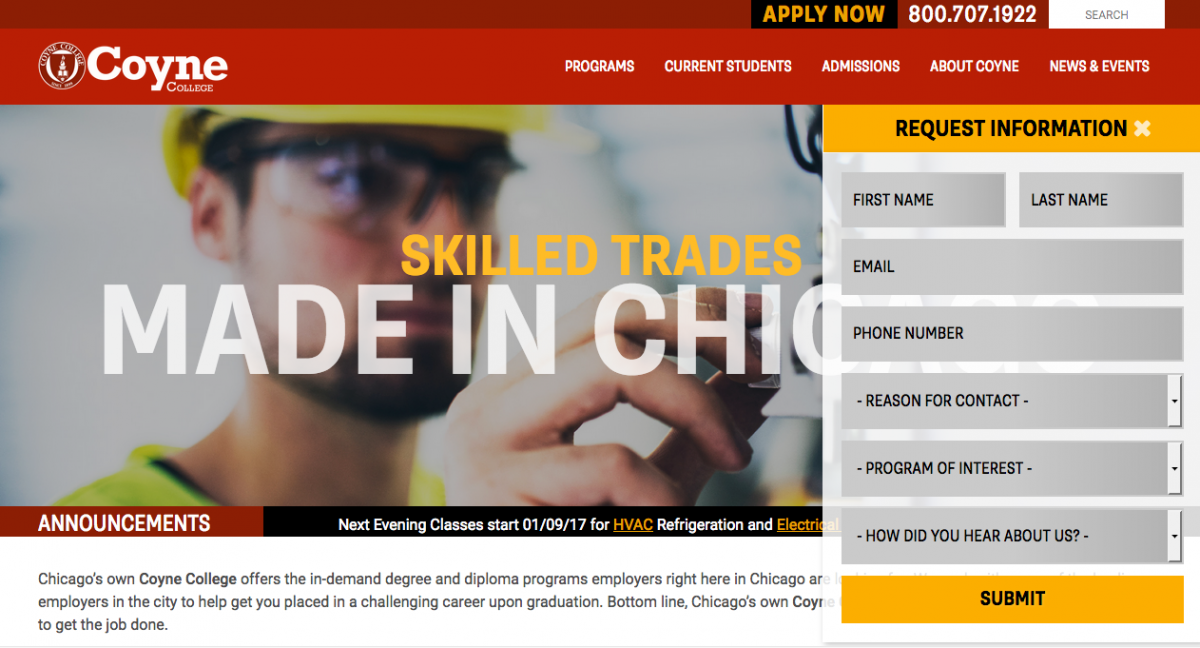 A nice example of an RFI form on the Coyne College Website (an EDUCO client). Note that the RFI has a minimal number of fields, is presented above the fold on a laptop, and may be dismissed by the user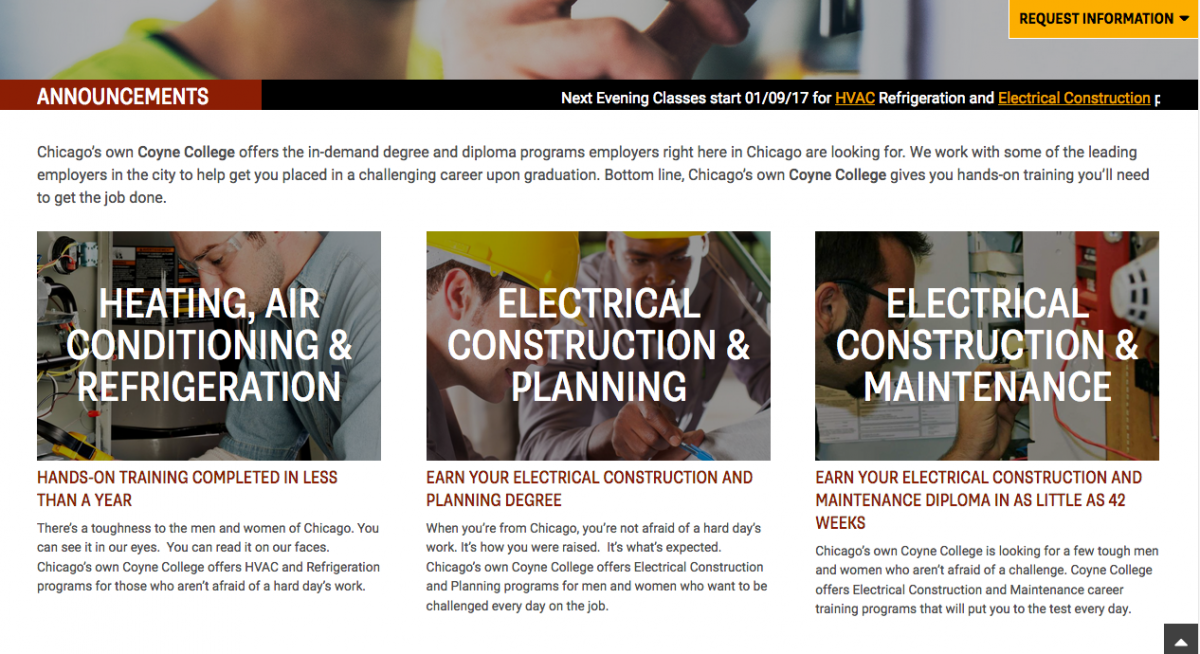 Shown here: if dismissed by the user, the RFI form collapses and stays sticky at the top of the browser window, always available in case a prospective student is ready to reach out
2. CRM Integration
Don't let technical limitations slow you down
Most universities store prospective student information in a centralized database, your CRM (customer relationship management) tool. Regardless of your platforms, you want to post prospective student information from your website forms to your CRM. This reduces friction and encourages form submission; it also reduces double work and simplifies lead management. 
When integrating with your CRM, the main technical challenges are account creation and application experience. These challenges can also bring added costs. To simplify and keep costs down, start small. Consider that integration becomes more costly as it becomes more complex, so minimize the number of forms and fields. Start by integrating your RFI forms only, and you'll be looking to integrate a few dozen fields at most. With these constraints, we have an achievable integration for most university budgets.
3. Landing Pages
Use specialized landings pages to get more from your ad budget
If you're running any kind of paid digital campaign, consider specialized landing pages. Running a campaign in social media? Create campaign-specific landing pages. Do you have paid search ads focused on specific programs?  Don't just send users to your program pages. Instead, craft program-specific landing pages designed to optimize conversion.
Here are some characteristics of a successful specialized landing page
The form is above the fold on a laptop
Minimal navigation – sometimes omitting the site navigation
Template allows for easy addition of campaign-specific tracking codes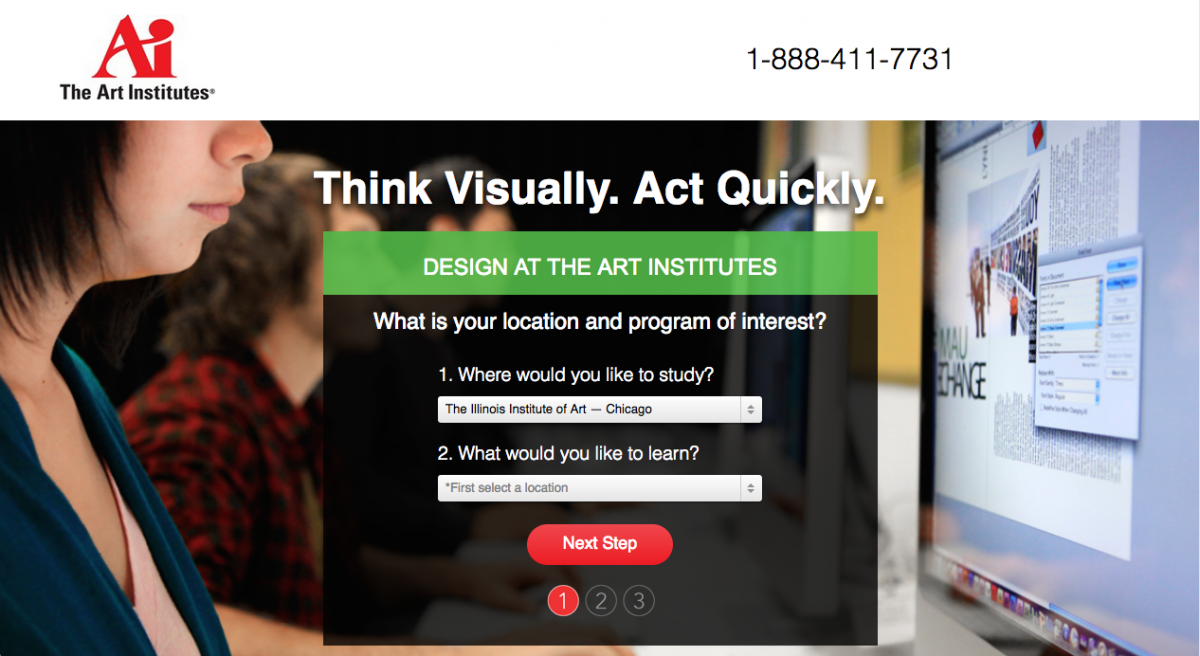 This paid search landing page for the Art Institutes shows effective landing page tactics: minimal navigation with the form above the fold. They also use a multi-step form process to capture information, reducing the "intimidation factor" that comes with a big, complex form
4. Program Content
Optimize program content to generate organic interest
If you're serious about using your university website for lead generation, you're probably running some paid search campaigns for specific programs. But make sure you're getting the most out of organic search, too. You can improve your performance in Google's natural search algorithms by providing robust, optimized content. This applies to every area of your site, but for college websites, specific program pages are a great place to start.
Optimized program content means:
Your core metadata is crafted using high volume keywords – you're using custom, targeted page title tags and image alt tags
Program pages have rich content and include target keyphrases in their body copy
When you publish new content, you work from existing keyword research to generate topics and refine copy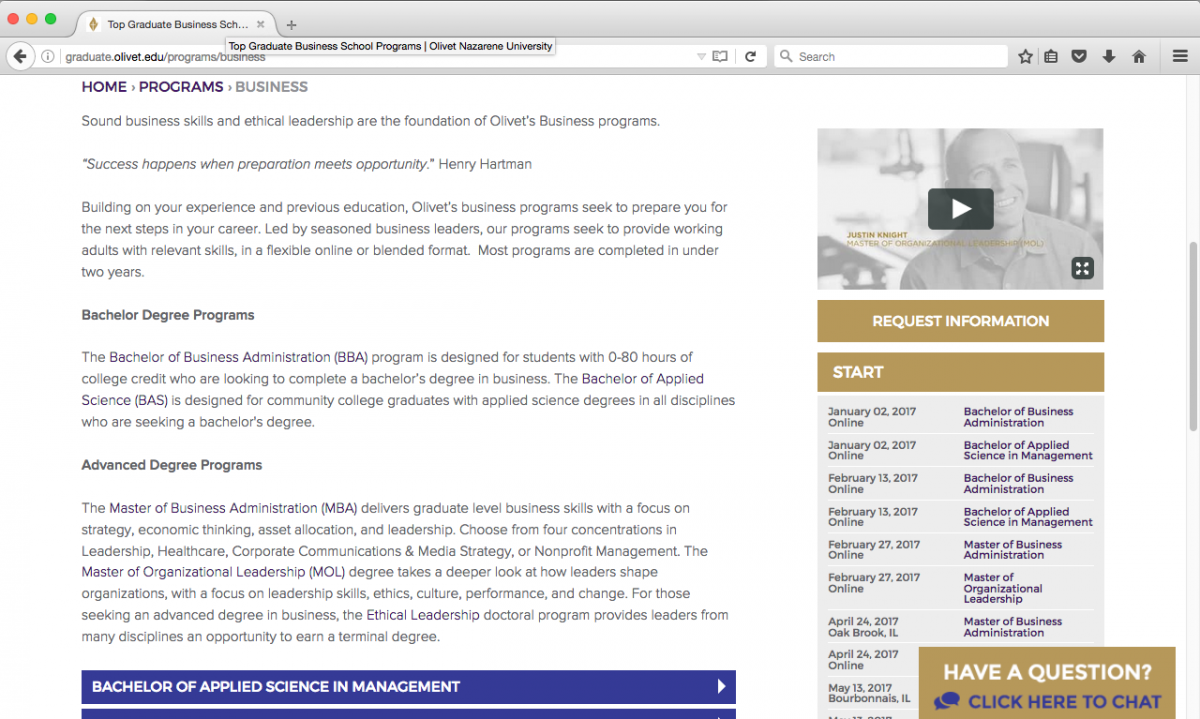 This program page for Olivet Nazarene University (an EDUCO client) shows how rich program content can be organized and prioritized in a meaningful way. Note video content and start dates in this screenshot. A quick look at the Title Tag shows that it has been optimized for "Top Graduate Business School Programs"
5. Content Publishing
Select a scalable, flexible content management system (CMS)
As you publish quality content, you exponentially increase the marketing value of your university website. Especially relevant content can deliver consistent organic traffic for a long time ("evergreen content"), but quality content doesn't happen overnight. It's the result of an iterative process — writing, publishing, tweaking, and measuring, over and over again.
To keep the content wheels churning, you need a website content management system that can scale with your business needs. So, what makes a good content management system?
Simple templates that empower marketing team members to add and publish content
A consistent publishing workflow including scheduling, revisions, and user permissions
If you're considering open source, select a platform with enterprise support options and transferability between design agencies
Is your university website optimized for success?
Even if you're following the best practices listed here, every website has room for improvement. Many college websites can be improved incrementally through strategic support, design improvements, and digital marketing tactics. But if you're seeing fundamental problems with your site, it may be time to consider a redesign.
Not sure if your university website is optimized? Get in touch with our team and we'll walk you through a preliminary site audit.