The EU General Data Protection Regulation (GDPR) is a new set of laws and regulations taking effect May 25th, 2018 that will govern how the private data of EU citizens is collected, managed, and shared. In preparation for this impending legislation, Google has been updating the terms and functionality of its services – in fact, you may have already received notification of certain changes. If you have a website running Google Analytics, you will need to accept the Data Processing Amendment in your Google Analytics account and update your Data Retention settings. I'll show you how.
Let's start by logging in to our Google Analytics Account, there are two primary things you'll need to do:
'Accept' and 'Save' Google's Data Processing Amendment at the Account level.
Adjust your Data Retention Settings at the Property level.
Steps at the Account Level 
Click "Admin" in the left vertical navigation
This will take us to the Administration Dashboard where we can 'Review', 'Accept' and 'Save' Google's new Amendment at the Account level.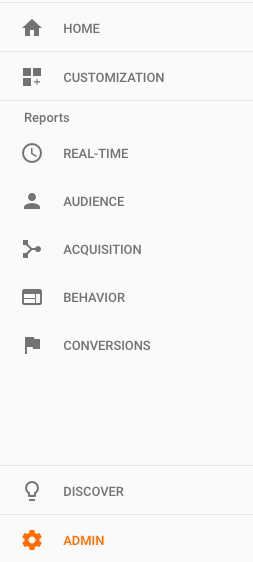 Review the amendment
The admin dashboard will look something like the image below (minus the red call out bubble).
Click on 'Account' and scroll down and you'll see the 'Review Amendment' link in the image below.
Click 'Review Amendment'. This will open a light box with about 16 pages worth of updated terms from Google. Be sure to read this or if you don't understand, copy it and send it to your attorney.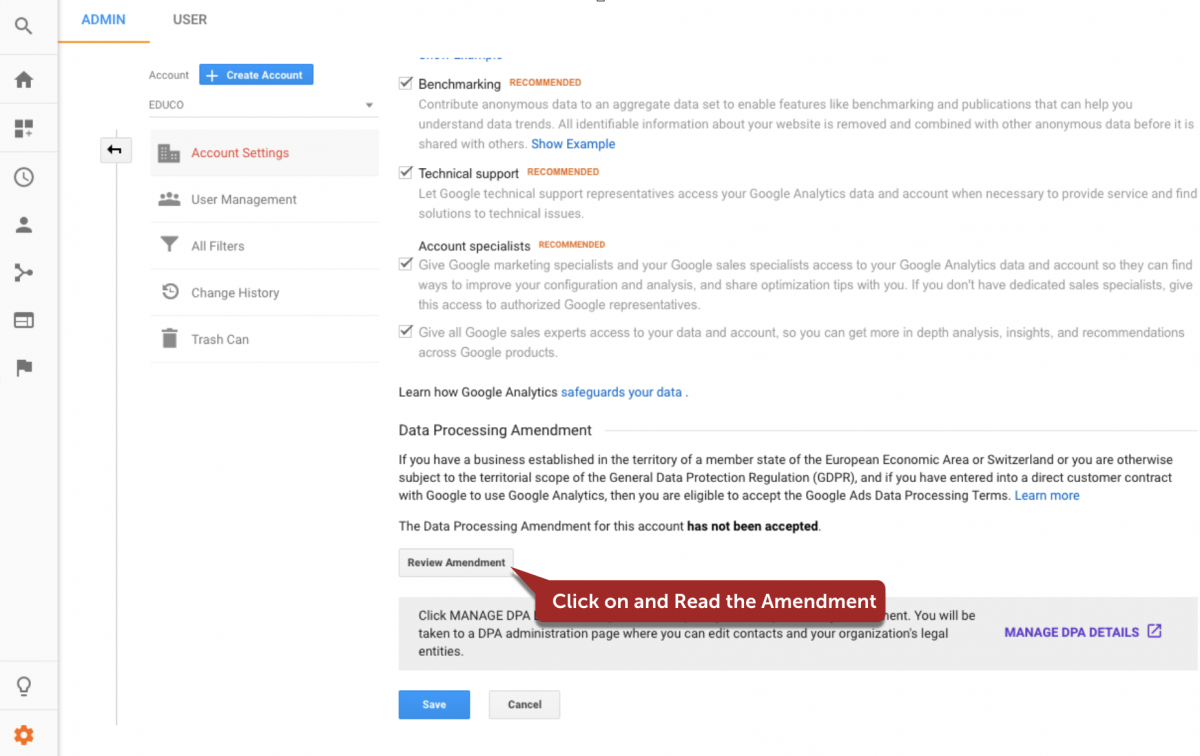 'Save" Your Acceptance of the Amendment
After you have read the document and feel comfortable with the contents 'Save' your Account so Google knows to process your acceptance of the Amendment.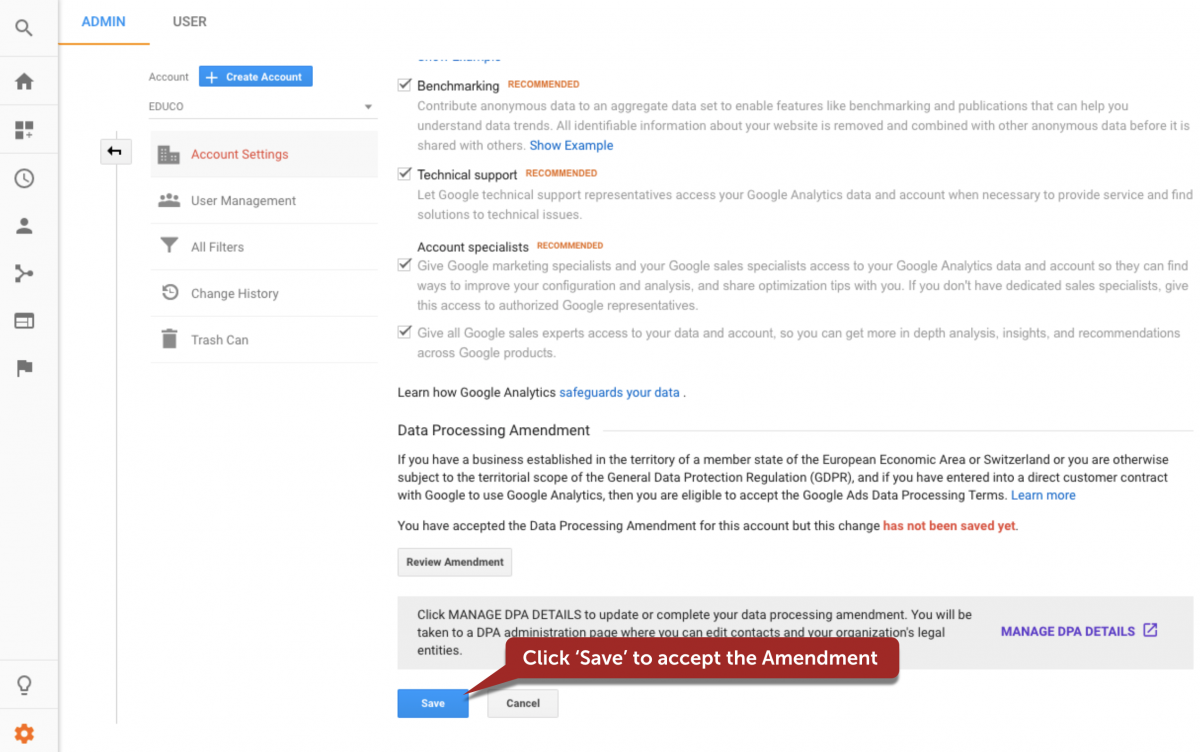 Once you've accepted and saved the Amendment you'll see the date timestamped to when the amendment was accepted.

Now you can move on to the Property settings.
Steps at the Property Level 
Click Property > Tracking Info > Data Retention
Click on Property and you'll see some items in the drop down. Click Tracking Info and Data Retention in the dropdown.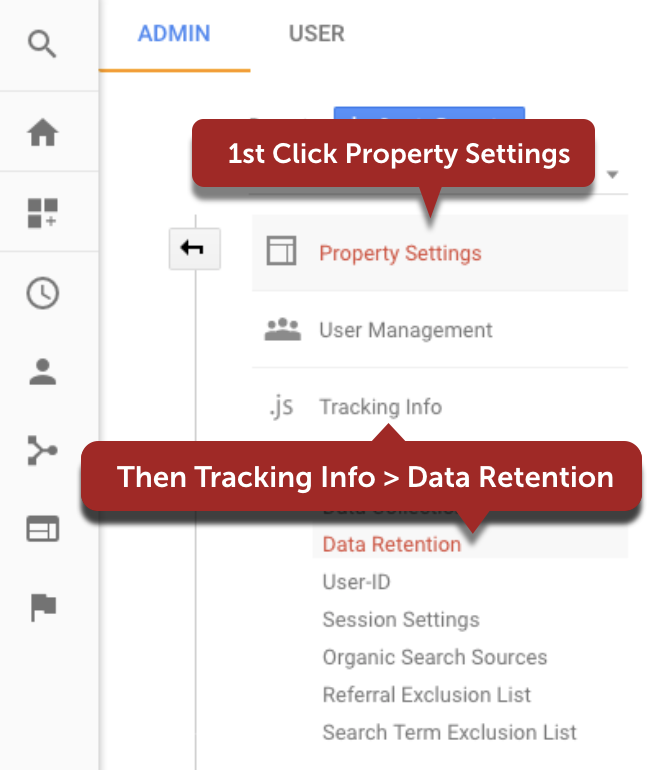 Set the duration for Google Analytics to retain user data
Once you're in the Data Retention Controls you will have the ability to choose how long Google Analytics retains user data from traffic to your website before they automatically delete it:
14 months
26 months
38 months
50 months
Do not automatically expire
If you're not sure what to pick, you can always go with the default option of 26 months. For our example we're using 14 months.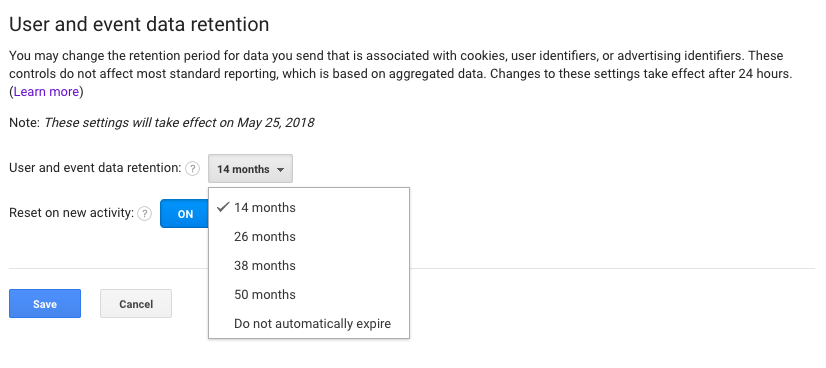 What does this duration period mean? Essentially, when data reaches the end of the retention period that you select, it will be deleted automatically. This deletion of user data will happen on a monthly basis as each user's data exceeds the retention date you selected. For more information about what this means, check out the Google Analytics Data Retention Policy.
Select if you want the data retention to reset or not 
After you select the period that you want to store user data, you'll need to decide whether or not you want that period to reset if a user logs new activity on your website. Your options for 'Reset on new activity' are:
ON – This will reset the expiration date each time a user logs new activity on your website. 
OFF – Regardless of new activity on your website user data will be deleted based on the period for data retention you previously set.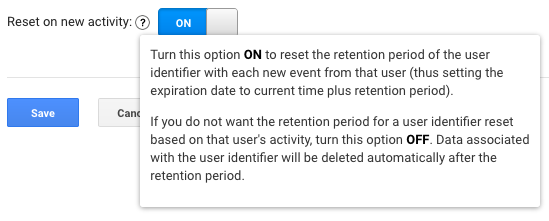 It is set ON by default. This means that if you left your retention (like we did in the screenshot above) at 14 months, then every time a user returns to your site, Google Analytics will keep storing their information until 14 months passes without a return visit.
After you've selected the option you feel is most in line with your data policy, just click the blue 'Save' button and you're finished!
If you'd like to know more about what GDPR is and how it will affect your website, check out this resource from our Creative Director, Chris Mickens, or review our GDPR compliance checklist.
Disclaimer
This is not legal advice. Do not rely on it as such. We recommend companies and individuals should assess their data capture and storage policies and even seek legal advice from their own attorney to make sure that they're complaint with the new GDPR regulation.